lbarrio
Get flash to fully experience Pearltrees
Our Choice will change the way we read books. And quite possibly change the world. In this interactive app, Al Gore surveys the causes of global warming and presents groundbreaking insights and solutions already under study and underway that can help stop the unfolding disaster of global warming. Our Choice melds the vice president's narrative with photography, interactive graphics, animations, and more than an hour of engrossing documentary footage. A new, groundbreaking multi-touch interface allows you to experience that content seamlessly. Pick up and explore anything you see in the book; zoom out to the visual table of contents and quickly browse though the chapters; reach in and explore data-rich interactive graphics.
Service-Learning Resources
The HHS regulations at 45 CFR part 46 for the protection of human subjects in research require that an investigator obtain the legally effective informed consent of the subject or the subject's legally authorized representative, unless (1) the research is exempt under 45 CFR 46.101(b) ; (2) the IRB finds and documents that informed consent can be waived ( 45 CFR 46.116(c) or (d) ); or (3) the IRB finds and documents that the research meets the requirements of the HHS Secretarial waiver under 45 CFR 46.101(i) that permits a waiver of the general requirements for obtaining informed consent in a limited class of research in emergency settings. When informed consent is required, it must be sought prospectively, and documented to the extent required under HHS regulations at 45 CFR 46.117 . [Food and Drug Administration (FDA) regulations at 21 CFR part 50 may also apply if the research involves a clinical investigation regulated by FDA.]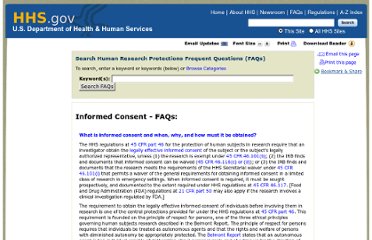 The practice of keeping research notebooks, paper vs. electronic While many experts recommend collecting data in bound and paper-based notebooks with numbered pages on which the date and time of research can be clearly enumerated, many researchers employ a mixture of electronic and paper-based approaches. Listen to Jennifer Kalishman talk about Collecting, Recording, and Keeping Data. While both types of data can be manipulated by someone deciding to engage in misconduct, checks and balances in both can make it harder to do so.
Professional organizations
Teaching tools and resouces