Competition
Not Just for Your Floor, Mohawk Ceramic, Glazed and Porcelain Tiles Provide a Whole New Look Offering a broad array of products, Mohawk Ceramic Tile comes in all major product types including floor tile, wall tile, mosaics and decorative tiles. From glazed floor to Colorbody™ to porcelain tile, Mohawk has a product to suit virtually any use throughout the home. Since color and design are so important in creating the right look, Mohawk has taken special care to create products that offer the right blend of colors, sizes, textures and finishes to express your individuality. And for the do-it-yourself handyman, Mohawk provides the step-by-step guide to installing ceramic yourself.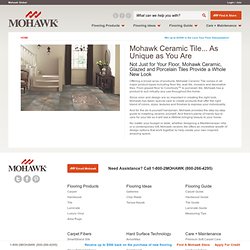 Ceramic, Porcelain, Glazed Tile from Mohawk Flooring
Porcelain Tile - Porcelain Slate Tile Look - Mannington Flooring
Inc. - Tile Manufacturer
Marazzi Usa — Marazzi Usa
Virginia Tile Co.
Louisville Tile - Buy Louisville Tiles - Lousville Distributor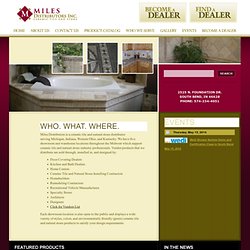 Home
Miles Distributors is a ceramic tile and natural stone distributor serving Michigan, Indiana, Western Ohio, and Kentucky. We have five showroom and warehouse locations throughout the Midwest which support ceramic tile and natural stone industry professionals. Vendor products that we distribute are sold through, installed in, and designed by: Floor Covering Dealers Kitchen and Bath Dealers Home Centers Ceramic Tile and Natural Stone Installing Contractors Homebuilders Remodeling Contractors Recreational Vehicle Manuafactures Specialty Stores Architects Designers Click for Vendors List
Welcome to our website Explore our extensive selection of products... Anatolia Tile & Stone, a source for ceramic and stone products, is a supplier to some of the largest distributors throughout United States and Canada. Based in Toronto, Canada, Anatolia provides its partnering distributors access to massive inventory as well as superior service beyond industry standards. New Arrivals We are constantly expanding our collection... Products Large selection of ceramic and natural stone tiles
Anatolia Tile & Stone Inc. :: Home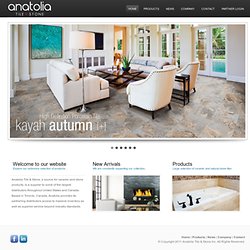 American Florim - World Class Ceramic Tile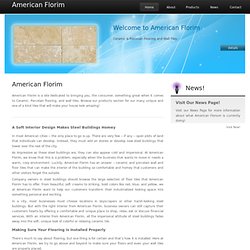 A Soft Interior Design Makes Steel Buildings Homey In most American cities -- the only place to go is up. There are very few -- if any -- open plots of land that individuals can develop. Instead, they must add on stories or develop new steel buildings that tower over the rest of the city.
Walker Zanger
adhesives sealants chemical products for construction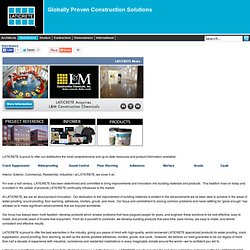 LATICRETE is proud to offer our distributors the most comprehensive and up-to-date resources and product information available! Crack Suppression Waterproofing Sound Control Floor Warming Adhesives Mortars Grouts Caulk Interior, Exterior, Commercial, Residential, Industrial—at LATICRETE, we cover it all. For over a half century, LATICRETE has been determined and committed to bring improvements and innovation into building materials and products. This tradition lives on today and is evident in the caliber of products LATICRETE continually introduces to the market. At LATICRETE, we are all about product innovation.
Waterproof Membrane - Sound Proof Flooring - Tile Grout - Radiant Floor Heating
Florida Tile products are one of the greatest values in the industry. Our reputation is built on providing reasonably priced, design rich products to the tile market. Florida Tile products come directly from the earth.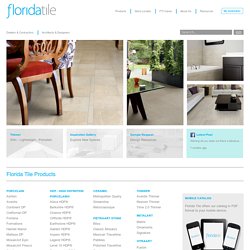 Florida Tile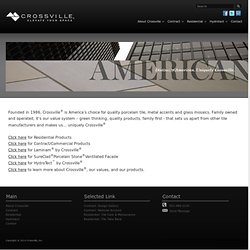 Founded in 1986, Crossville® is America's choice for quality porcelain tile, metal accents and glass mosaics. Family owned and operated, it's our value system – green thinking, quality products, family first - that sets us apart from other tile manufacturers and makes us... uniquely Crossville® Click here for Residential ProductsClick here for Contract/Commercial ProductsClick here for Laminam® by Crossville®Click here for SureClad®Porcelain Stone®Ventilated FacadeClick here for HydroTect™ by Crossville®Click here to learn more about Crossville®, our values, and our products.
Crossville, Inc Tile - Porcelain Stone, Natural Stone, Glass, Metal Tiles
Daltile Porcelain, Ceramic and Natural Stone Tiles and Slabs