Anime Torrent
NyaaTorrents >> Browse
AnimeSuki
AnimeSuki tries to provide a complete and convenient overview of links to all unlicensed English anime fansubs available through the P2P file swarming application BitTorrent. What's new?(Last updated: January 21st, 2012) We have a new Kairin, for the new year, created by Aurora. As usual a larger version, with background, will be available on the forum.
BakaBT - High quality anime bittorrent tracker
東京 図書館 A BitTorrent Library for Japanese Media (UTC) 2014-04-18 14:19 (Central US) 2014-04-18 09:19 (Japan) 2014-04-18 23:19 2014-04-15 We were affected by the Heartbleed bug. If you registered or changed your password before 2014-04-09, you should visit your profile page and change passwords. You may also update the website field so that it auto fills in the submission form. 2013-11-11 Submitting entries from sites (i.e. ehtracker.org) which used 301 or 302 http redirects was not working, this is now fixed. 2013-10-27 Seems submitting https links was broken, this has been fixed.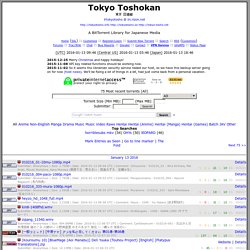 Tokyo Toshokan :: #tokyotosho @ irc.rizon.net :: Torrent Listing