Knapsack problem
Journal of Theoretical Biology : The promise of Mechanical Turk: How online labor markets can help theorists run behavioral experiments
Volume 299, 21 April 2012, Pages 172–179 Evolution of Cooperation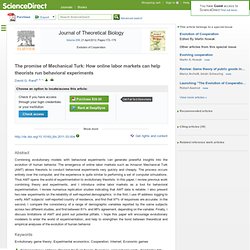 Iowa Electronic Markets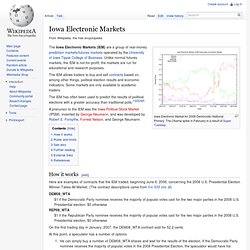 Iowa Electronic Market for 2008 Democratic National Primary.
Prediction market
People who buy low and sell high are rewarded for improving the market prediction, while those who buy high and sell low are punished for degrading the market prediction. Evidence so far suggests that prediction markets are at least as accurate as other institutions predicting the same events with a similar pool of participants.[1]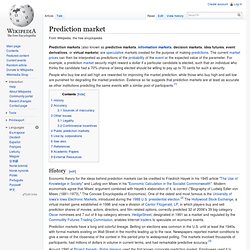 Knapsack problem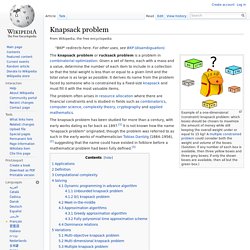 Example of a one-dimensional (constraint) knapsack problem: which boxes should be chosen to maximize the amount of money while still keeping the overall weight under or equal to 15 kg? A multiple constrained problem could consider both the weight and volume of the boxes.
Continuous optimization problem[edit] The standard form of a (continuous) optimization problem is[1]
Optimization problem