Marketing Trends 2011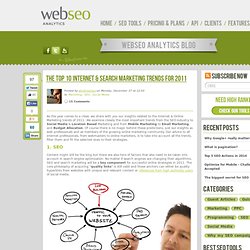 The Top 10 Internet & Search Marketing Trends for 2011
Posted bydimitriszotoson to Marketing, SEO, Social Media As the year comes to a close, we share with you our insights related to the Internet & Online Marketing trends of 2011. We examine closely the most important trends from the SEO industry to Social Media & Location Based Marketing and from Mobile Marketing to Email Marketing and Budget Allocation. Of course there is no magic behind these predictions, just our insights as web professionals and as members of the growing online marketing community.
Top Four Sales and Marketing Trends of 2011
Digital Marketing Trends 2011
Happy New Year All! We've decided to kick off 2011 with some insights from our favourite peers and digital marketers on the trends to watch out for in the year ahead. Insights are based on anything from content development, to web analytics, to the increasingly relevant subject of mobile marketing. Remember to bookmark and share this page with your peers if you find it useful, and let us know your thoughtson what digital marketing trends to watch out for this year in the comments below. We asked: What do you see as being the most important digital marketing trend in 2011, and why? Avinash Kaushik | Author, Analytics Evangelist & Co-Founder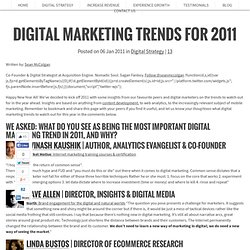 My predictions on 11 marketing trends for 2011
2011 digital marketing trends > Smart Insights Digital Marketing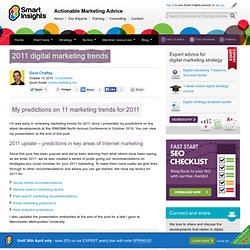 Top Ten Digital Marketing Trends For 2011 - HorizonWatching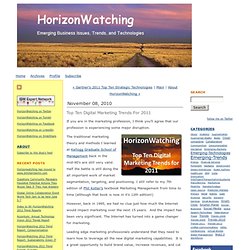 If you are in the marketing profession, I think you'll agree that our profession is experiencing some major disruption. The traditional marketing theory and methods I learned at Kellogg Graduate School of Management back in the mid-90's are still very valid. Half the battle is still doing the all important work of market segmentation, targeting, and positioning. I still refer to my 7th edition of Phil Kotler's textbook Marketing Management from time to time (although that book is now in it's 12th edition!)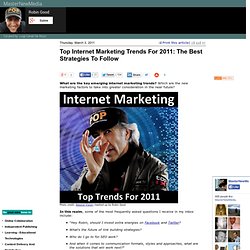 Top Internet Marketing Trends For 2011: The Best Strategies To Follow
Internet Marketing: Future Trends and Emerging Trends by Robin Good 1) From Screaming to Helping One of the major shifts happening to the universe of marketing and advertising is the one represented by a deep and profound move from noise-making and attention-gathering approach typical of classical advertising and of the early, primitive use of many new media formats (from blogs to videos, Facebook and Twitter), to one of help and instantaneous utility provision.
10 marketing trends popping up in 2011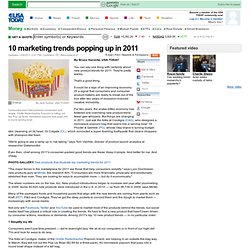 By Bruce Horovitz, USA TODAY You can say one thing with certainty about new product trends for 2011: They're pretty wacky.
Three Marketing Trends for 2011
Editor's Note: The following is a guest post from Ilana Rabinowitz, Vice-President of Marketing for Lion Brand Yarn Company. These three concepts are not new ­– in fact they are age-old techniques that merchants have used whenever they came to public markets to sell their wares and stood face-to-face with the customer. For a while, in the era of mass media, these vital elements were lost, but now, digital marketing tools like websites and social media give us the opportunity to recapture elements of that personal relationship. What has also changed are the customers.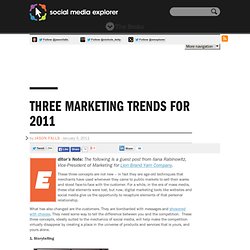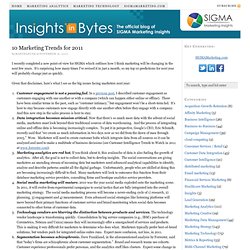 I recently completed a new point-of-view for SIGMA which outlines how I think marketing will be changing in the next few years.
10 Marketing Trends for 2011
By: Gini Dietrich | October 5, 2010 |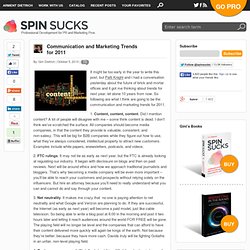 Communication and Marketing Trends for 2011
Tendances 2.0 = marketing, communication, media (2010 / 2011 trends). j?r?my dumont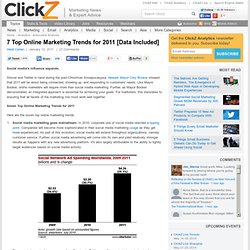 Heidi Cohen | January 10, 2011 | 23 Comments inShare316 Shovel and Twitter in hand during the post-Christmas Snowpocalypse, Newark Mayor Cory Booker showed that 2011 will be about being connected, showing up, and responding to customers' needs. Like Mayor Booker, online marketers will require more than social media marketing. Further, as Mayor Booker demonstrated, an integrated approach is essential for achieving your goals. For marketers, this translates to ensuring that all facets of the marketing mix must work well together.
10 Marketing Trends for 2011
Growing numbers of consumers can no longer escape an awareness of the damage done by their consumption: to the planet, society, or themselves. But a mixture of indulgence, addiction and conditioning mean that most can't substantially change their consumption habits. The result? A never-ending guilt spiral.
Author Ursula Le Guin wrote that "legends of prediction are common throughout the whole Household of Man.
11 Branding And Marketing Trends For 2011