Photoshop
Get flash to fully experience Pearltrees
Fortunately, it isn't required to go to design school in order to be a graphic designer. A good foundation in graphic design history, theory, and practical application will help you hit the ground running. There are plenty of resources available in which you can learn graphic design on your own. Don't set your expectations to high at first, as it will take enthusiastic study for years to become great. You can do it though!
Welcome to PhotoshopStar.com! If you find this site useful, you might want to subscribe to our free newsletter for updates on our new Photoshop Tutorials and Articles. You can find a lot of tutorials how to separate complex objects from the background. But I would like to invite your attention to another one unique simple tutorial how to achieve the desired effect in just a few steps.
I love Photoshop techniques that offer all kinds of possibilities for experimentation—and the following tutorial is a perfect example of one of those techniques. In this issue, we're going to take a portrait and replace the person's image with text (think 2009 Grammy posters). Pick a portrait that offers good contrast—a photo that's very dramatic and dark probably won't work as well. I've had the best success with straight-on head and shoulder shots, but again, feel free to experiment with all types of photos. For the best results, choose a photo that has a light background (or select the background around the person and make it lighter). Create a new document (File>New) in a size that's smaller than your photo: the specifics don't really matter.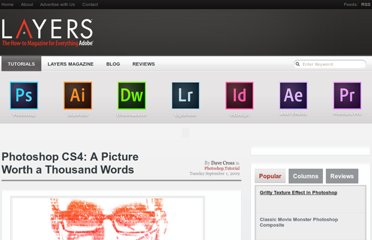 Madras Geek Blogging - WordPress - Social Media - Web2.0 Best Collection of Adobe Photoshop Tutorials Advertisement I am going to dump the best collection on the web in this post. 70 Beauty-Retouching Photoshop Tutorials
photoshop How to Create a Jumbotron Effect Create a jumbotron screen effect like you would see at big sporting events | 26406 views | by denisdesigns
Want to learn how everything works in Photoshop? We'll help you make your photos better, draw vector graphics, and design a web site. Learn the Basics of Photoshop in Under 25 Minutes - To get started with Photoshop, you need to know what everything does. Here's a look at practically every tool in Photoshop in less than 25 minutes. Basics of Photoshop: Color Correction, Touch Ups, and Enhancements - Now that you know the tools Photoshop has to offer, we can take a look at using them to correct and alter color, retouch blemishes and other unwanted parts of your photos, and enhance portraits to make the subject look especially good. Basics of Photoshop: Basic Drawing with the Pen Tool - Photoshop isn't just for photos.
The Adobe Photoshop brushes are probably one of the most popular add-ons because they don't just enhance your creative designs; it is also to catch attention and stand out from all the other designs. So that's why designers use their imagination mixed with several tricks that create certain visual illusions. All those brush packs are of very high quality and would be great for a wide range of occasions.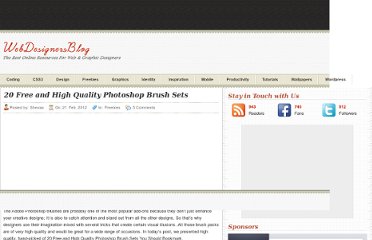 Tutorial Links: Page 1 | Page 2 Line Art Tutorial Recommended for Intermediate Level Photoshop Users First up I'd like to ease your mind and let you know that you don't need to know how to draw to complete this tutorial. It's basically tracing, except that tracing is alot easier in Adobe Photoshop .
This tutorial will help you learn how to speed up skin retouching and polish photos in Photoshop using basic techniques. Original Photo Step 1 Duplicate the background image and rename it to Layer 1 . Step 2 Go to Filter > Other > High Pass and set the Radius to around 4.5 pixels .
24 Really Cool Photoshop Actions To Enhance Photography Photoshop actions are the best — they save time and make you more productive during post-processing. They can be used to speed up repetitive tasks, make quick work of time consuming edits, and give you a little creative inspiration. So here are 24 Really Cool Photoshop Actions To Enhance Your Photography 110 Free PSD Web Design Elements
With the launch of the new Adobe Suite of programs comes the long awaited Adobe Photoshop CS5. Packed with new features to speed up your workflow it truly is the most advanced edition of Photoshop to date. One of the new features we will be looking at today is called Content Aware. This feature allows you to quickly fill in a selection with surrounding content making it look like a part of the original image. In this case we will choose to remove a person from a photo, this can be done in less than five minutes.