Fonts
Get flash to fully experience Pearltrees
Desktop License Synthview Desktop Font End User License Agreement Version 2.0 - October 25, 2012 DEFINITIONS • "End-User" refers to you either as individual or single entity. • "EULA" refers to this End-User License Agreement. • "This Software" refers to the set of font files, or to any part of it, and any documentation released under this End-User License Agreement. • "You" refers to the individual or single entity downloading and using this This Software. The terms "You" and "End-User" both refer to You. • "Author" refers to Jan Tonellato – http://typography.synthview.com, who designed and programmed the font Software and owns its exclusive intellectual property. PREAMBLE This EULA (End-User License Agreement) is a legal agreement between End-User, either as individual or single entity, and the Author and allows a non-exclusive and unlimited-in-duration permission to use this Software.
Are you are on a tight design budget, but still want to deliver fast and quality results? Then you can always download some free stuff from free vector websites ! When it comes to vector searching, Google image search is probably the #1 choice for most, but is it always the best?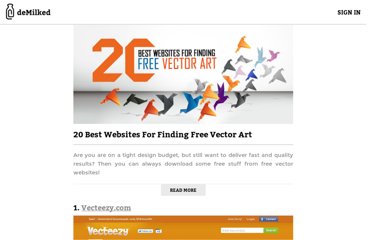 Don't Forget to participate in a contest where you can win the world's biggest UI elements pack "Impressionist User Interface Elements Pack" for 3 winners (1 developer license and 2 personal license) to design your project more creatively. If you are designer you undoubtedly view websites critically. You judge their flow and overall design. An important part of a site's design is the font used on it. If you like a font style, you would definitely want to incorporate it into one of your latest site designs.
It has been long since we posted our last free font collection (see: 20 Free Handwritten Fonts and 21 Incredible Fonts That Shouldn't Be Free ), so we decided it's a high time to do one more. The use of retro and vintage themes in design is still very popular, so it's always good to have a big font collection. That's why we handpicked 26 beautiful and stylish free retro fonts . We had a lot of fun doing the sample images, so if you decide to use some of them – please link back to DeMilked .
About: Irina Batkova Be it professional branding, thematic illustrations, hand-drawn concept art or original graphic and web design — they are all crafted skills of her trade. She graduated as a painter, starting her graphic designer career in an advertising agency in 2003. Then she worked for EFM Solutions, Moscow office, and in 2005 came to Articul Media, a well-known group of web design and branding companies, as Creative designer. Rich practical experience has enabled Irina to start independent action in 2009. She now lives in Moscow and works with her team of professionals.