#SUSocialBiz
The 5 Best Collaboration Tools for Your Small Business - Duct Tape Marketing Consultant :: Duct Tape Marketing Consultant. Right strategy combined with the right tools leads to business success.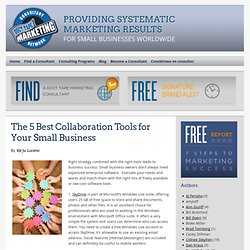 Small business owners don't always need expensive enterprise software. Evaluate your needs and wants and match them with the right mix of freely available or low-cost software tools. 1. SkyDrive is part of Microsoft's Windows Live suite, offering users 25 GB of free space to store and share documents, photos and other files. 8 tools to sharpen your Skype, Hangout, and videoconferencing skills.
There are new worlds to conquer when it comes to conference calls.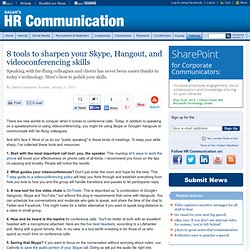 Today, in addition to speaking on a speakerphone or using videoconferencing, you might be using Skype or Google+ hangouts to communicate with far-flung colleagues. And let's face it: Most of us do our "public speaking" in these kinds of meetings. What Does It Take To Be A Leader In Social Business? How important is leadership by example?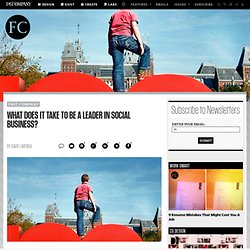 Culturally, we respect people who "walk the walk," so leading business initiatives by example would seem pretty important. It is surprising, therefore, that a recent study of Fortune and Global 250 companies found that only 10% of CIOs are actively involved in social activities. The study, carried out by enterprise social software vendor harmon.ie (see disclaimer below), used a formula developed by social scoring expert Mark Fidelman (an executive at harmon.ie). The formula incorporates social activity levels taken from Twitter, SocialMention.com, LinkedIn, Google+, and Alexa. The reaction to the study has sparked a debate that centers on the following two questions:
Handling Business.....Socially. A recap of the work I did with Nikelle, Valentina and Laurie for our Social Business presentation.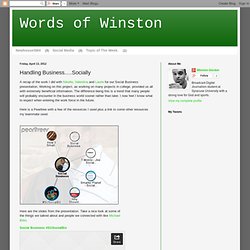 Working on this project, as working on many projects in college, provided us all with extremely beneficial information. The difference being this is a trend that many people will probably encounter in the business world sooner rather than later. I now feel I know what to expect when entering the work force in the future. Social Business – 3 Themes for Implementation.
Mack Collier's recent Blog Post: We Need to Stop Marketing 'Social Business' If We Want to Start Selling It brought up an interesting challenge: A far more interesting discussion in my mind is to talk about exactly how a business would transition to becoming a 'social business'.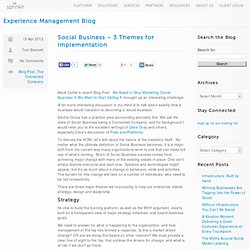 Dachis Group has a practice area surrounding precisely this. We call the state of Social Business being a Connected Company, and for background I would refer you to the excellent writings of Dave Gray and others, especially Dave's discussion of Pods and Platforms. To discuss the HOW, let's talk about the nature of the transition itself.
No matter what the ultimate definition of Social Business becomes, it is a major shift from the current way many organizations work to one that can make full use of what's coming. The Shift to Social Business ~ HootSuite University Lecture Series. Over the past year, HootSuite University has released over 30 Lecture Series featuring industry thought leaders in the social space.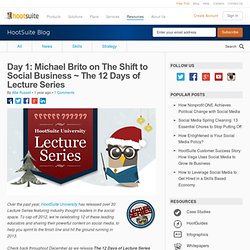 To cap off 2012, we're celebrating 12 of these leading educators and sharing their powerful content on social media, to help you sprint to the finish line and hit the ground running in 2013. Check back throughout December as we release The 12 Days of Lecture Series leading up to the holidays, and keep track on Twitter by following #12DaysOfLectures. To kick off the first of 12 days is Michael Brito, author and Senior VP of Social Business Planning at Edelman Digital, discussing where social lives within the organization, and how to streamline it across all departments. #SUSocialBiz Presentation Became Quite Social. To wrap up my Social Media class (follow along with #NewhouseSM4), I had to research, create and present a presentation on social business.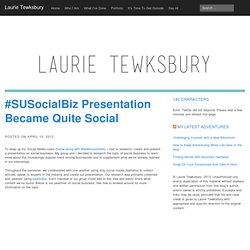 My group and I decided to research the topic of social business to learn more about the increasingly popular trend among businesses and to supplement what we've already learned in our internships. Throughout the semester, we collaborated with one another using only social media platforms to collect articles, speak to experts in the industry and create our presentation.
Our research was primarily collected and 'pearled' using pearltrees. Each member of our group could add to this tree and easily share what content we've found.
#SUSocialBiz Presentation · laurietewksbury. Social Business #SUSocialBiz. Getting Employees On Board. ESN Platforms. 37signals. IBM Social.
---