#SUSocialBiz
Right strategy combined with the right tools leads to business success.
The 5 Best Collaboration Tools for Your Small Business - Duct Tape Marketing Consultant :: Duct Tape Marketing Consultant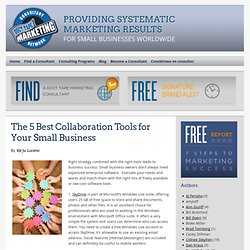 There are new worlds to conquer when it comes to conference calls. Today, in addition to speaking on a speakerphone or using videoconferencing, you might be using Skype or Google+ hangouts to communicate with far-flung colleagues. And let's face it: Most of us do our "public speaking" in these kinds of meetings.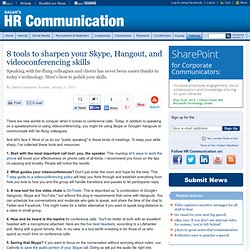 8 tools to sharpen your Skype, Hangout, and videoconferencing skills
What Does It Take To Be A Leader In Social Business?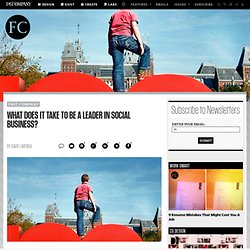 How important is leadership by example? Culturally, we respect people who "walk the walk," so leading business initiatives by example would seem pretty important.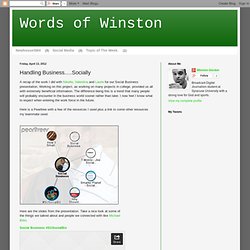 A recap of the work I did with Nikelle, Valentina and Laurie for our Social Business presentation.
Handling Business.....Socially
Subscribe to get 10 free content ideas daily Mack Collier's recent Blog Post: We Need to Stop Marketing 'Social Business' If We Want to Start Selling It brought up an interesting challenge: A far more interesting discussion in my mind is to talk about exactly how a business would transition to becoming a 'social business'.
Social Business – 3 Themes for Implementation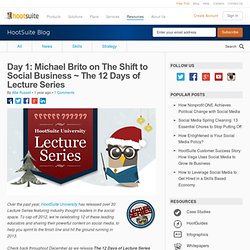 Over the past year, HootSuite University has released over 30 Lecture Series featuring industry thought leaders in the social space.
The Shift to Social Business ~ HootSuite University Lecture Series
To wrap up my Social Media class (follow along with #NewhouseSM4), I had to research, create and present a presentation on social business. My group and I decided to research the topic of social business to learn more about the increasingly popular trend among businesses and to supplement what we've already learned in our internships. Throughout the semester, we collaborated with one another using only social media platforms to collect articles, speak to experts in the industry and create our presentation. Our research was primarily collected and 'pearled' using pearltrees. Each member of our group could add to this tree and easily share what content we've found.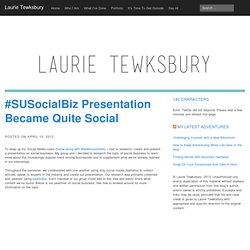 #SUSocialBiz Presentation Became Quite Social
#SUSocialBiz Presentation · laurietewksbury
Social Business #SUSocialBiz
Getting Employees On Board