#NewhouseSM4
Entering the Social Media Realm: Nonprofits. Design by Emilia. SMEcom Team Teaching Project So now the semester is almost over, and for my Social Media class we had our team teaching presentation on Social Media E-Commerce!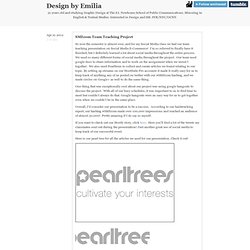 I'm so relieved to finally have it finished, but I definitely learned a lot about social media throughout the entire process. We used so many different forms of social media throughout the project. Our team used google docs to share information and to work on the assignment when we weren't together. We also used Pearltrees to collect and curate articles we found relating to our topic. Reporter's Blog | Geo-Location now and in the future | Reporter's Blog. #ESUSM « SM with jen. 4 Apr Earlier today my team presented our project in my social media class, #NewhouseSM4.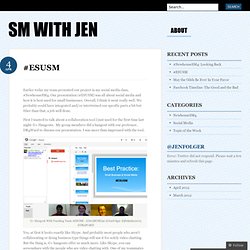 Our presentation (#ESUSM) was all about social media and how it is best used for small businesses. Overall, I think it went really well. We probably could have integrated and/or intertwined our specific parts a bit but tther than that, a job well done. First I wanted to talk about a collaboration tool I just used for the first time last night: G+ Hangouts.
Social Media is Not a Waste of Time [Infographic] In the history of technology, every new movement is accompanied by a swell of irascible naysayers, claiming the technology is subverting our traditional values.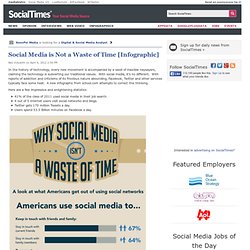 With social media, it's no different. With reports of addiction and criticisms of its frivolous nature abounding, Facebook, Twitter and other services typically face some heat. A new infographic from school.com attempts to correct this thinking. Here are a few impressive and enlightening statistics: Relay For Life | #1 Relay Challenge. Report: Consumers more likely to engage with mobile ads. March 26, 2012 Report: Consumers more likely to engage with mobile ads Consumers are significantly more likely to click through a search ad on a smartphone or tablet than they would on a desktop computer, said Matt Lawson, VP of marketing and partnerships at Marin Software, a provider of paid search management services.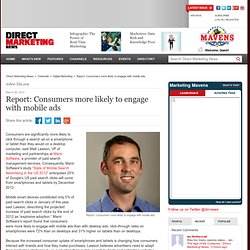 Consequently, Marin Software's study "State of Mobile Search Advertising in the US 2012" anticipates 25% of Google's US paid search clicks will come from smartphones and tablets by December 2012. The Hunger Games. How to Make Your Tweets More Trustworthy [STUDY]
Ever feel like you tweet something important, but no one believes you?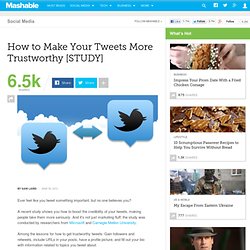 A recent study shows you how to boost the credibility of your tweets, making people take them more seriously. And it's not just marketing fluff; the study was conducted by researchers from Microsoft and Carnegie Mellon University. Video is Tops in Online Branded Content. What Should You Know About Facebook Marketing. What Is Viral Content Marketing.
---