Great SM Examples
Twitter + Random Acts of Kindness = A Successful Social Campaign. Running out of cereal is usually a problem that one must face on his own.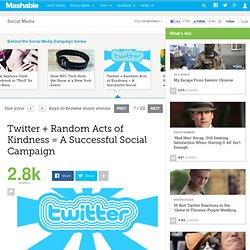 But when David Berkowitz awoke to the dilemma one morning this October, he got some support from an unexpected source. After reading a tweet about his irritation, Edge Shave Gel sent him enough cereal that it should be a very long time before he runs out again. How Pinterest Can Get Your Brand Attention [INFOGRAPHIC] If your brand isn't on Pinterest, you could be missing out on a growing stream of potential customers.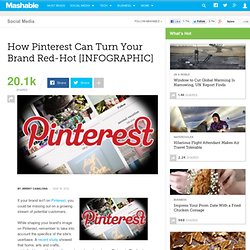 While shaping your brand's image on Pinterest, remember to take into account the specifics of the site's userbase. A recent study showed that home, arts and crafts, style/fashion and food are the most popular categories on Pinterest. 30 Social Media Predictions for 2012 From the Pros. How will social media impact businesses in 2012?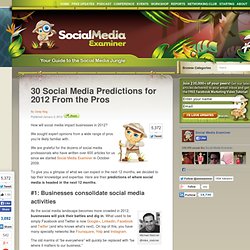 We sought expert opinions from a wide range of pros you're likely familiar with. We are grateful for the dozens of social media professionals who have written over 600 articles for us since we started Social Media Examiner in October 2009. To give you a glimpse of what we can expect in the next 12 months, we decided to tap their knowledge and expertise. Here are their predictions of where social media is headed in the next 12 months. #1: Businesses consolidate social media activities. Why QR Codes Won't Last. Jon Barocas is the founder and CEO of bieMEDIA, a Denver-based online marketing and media solutions company that specializes in video content production and distribution, mobile visual search, technology platforms, SEO, VSEO and more.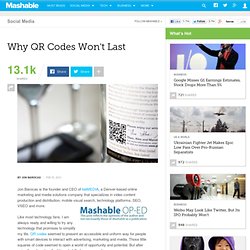 Like most technology fans, I am always ready and willing to try any technology that promises to simplify my life. QR codes seemed to present an accessible and uniform way for people with smart devices to interact with advertising, marketing and media. Those little squares of code seemed to open a world of opportunity and potential. But after using them for a length of time, I shifted my perspective. 13 Cool Examples of Google+ Brand Pages. It was only a few days ago when Google+ finally gave us access to brand pages – the moment we have been anticipating since summer.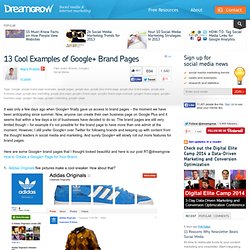 Now, anyone can create their own business page on Google Plus and it seems that within a few days a lot of businesses have decided to do so. The brand pages are still very limited though – for example it's not possible for the brand page to have more than one admin at the moment.
---