Current Coke Marketing
Ideas and evidence for marketing people. Coca-Cola's Joe Tripodi On Staying Relevant. The Very Best of Coca-Cola. 5 Lessons from Coca Cola's New Content Marketing Strategy. Coca Cola has been part of popular culture for over 100 years and has been called a "Vision Brand".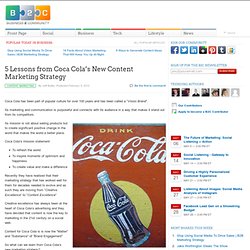 Its marketing and communication is purposeful and connects with its audience in a way that makes it stand out from its competitors. Its mission is not about selling products but to create significant positive change in the world that makes the world a better place. Google Challenges Global Brands To ReMake TV Ads As Digital Campaigns. Google has partnered with four global brands for an advertising experiment to reimagine their classic TV commercials.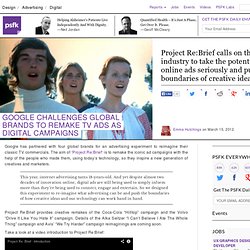 The aim of 'Project Re:Brief' is to remake the iconic ad campaigns with the help of the people who made them, using today's technology, so they inspire a new generation of creatives and marketers. This year, internet advertising turns 18-years-old. And yet despite almost two decades of innovation online, digital ads are still being used to simply inform more than they're being used to connect, engage and entertain. So we designed this experiment to re-imagine what advertising can be and push the boundaries of how creative ideas and our technology can work hand in hand. Project Re:Brief provides creative remakes of the Coca-Cola "Hilltop" campaign and the Volvo "Drive It Like You Hate It" campaign. "Project Re: Brief | Coca-Cola | Mobile Ad Demo" Coke | Project Re: Brief by Google. The Overview "Hilltop" (1971) - Harvey Gabor, Art Director "Forty years ago Bill Backer and myself had a wish, and that was to buy the world a Coke.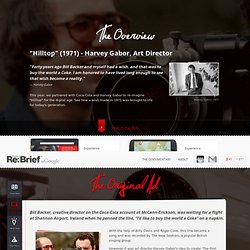 ---