Costs/Pricing
Which Advertising Agency Compensation Structure Is Better For Me? Part 1 of 3 « Free Advertising Candy. There are a myriad of ways in which advertising agencies can be compensated.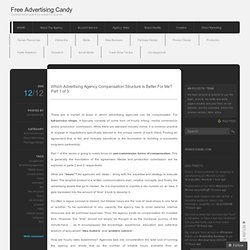 For full-service shops, it typically consists of some form of hourly billing, media commission and/or production commission. While there are standard industry norms, it is common practice to engage in negotiations specifically tailored to the unique needs of each client. Finding an agreement that is fair and mutually beneficial is the foundation to building a successful long-term partnership. Part 1 of this series is going to solely focus on non-commission forms of compensation. This is generally the foundation of the agreement.
The Social Media Salary Guide [INFOGRAPHIC] Social Media Week is upon us, so we thought it would be appropriate to delve into the social media industry and see how its salaries stack up.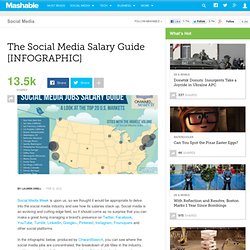 Social media is an evolving and cutting-edge field, so it should come as no surprise that you can make a great living managing a brand's presence on Twitter, Facebook, YouTube, Tumblr, LinkedIn, Google+, Pinterest, Instagram, Foursquare and other social platforms. In the infographic below, produced by OnwardSearch, you can see where the social media jobs are concentrated, the breakdown of job titles in the industry, and how much dough the average social mediate is bringing home each year. (The graphic shows the 25th and 75th percentiles for salary, pulled from Indeed). How much does Social Media cost companies in 2011? UPDATE: If you would like to view my Social Media Consulting Rate Sheet to see what I charge for my services, please click here.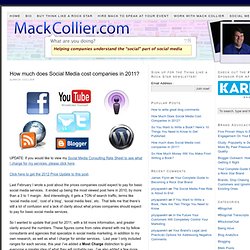 Click here to get the 2012 Price Update to this post. Last February I wrote a post about the prices companies could expect to pay for basic social media services. SEO Pricing: 600+ Agencies Share Costs of Services & Pricing Models. Near the end of December 2011, we ran a survey on this blog asking consultants and agencies of all sizes and geographies to contribute their pricing models and cost structures.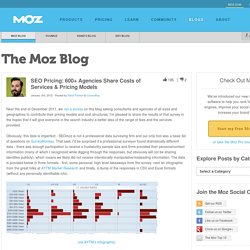 I'm pleased to share the results of that survey in the hopes that it will give everyone in the search industry a better idea of the range of fees and the services provided. Obviously, this data is imperfect - SEOmoz is not a professional data surveying firm and our only tool was a basic list of questions on SurveyMonkey. That said, I'd be surprised if a professional surveyor found dramatically different data - there was enough participation to receive a trustworthy sample size and firms provided their personal/contact information (many of which I recognized while digging through the responses, but obviously will not be sharing identities publicly), which means we likely did not receive intentionally manipulative/misleading information. How to Charge for Social Media Services. Know your value!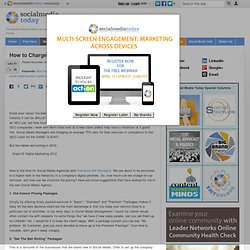 I've been through it myself. For New Social Media Managers starting out in the industry it can be difficult to work out how to price your services.
---