Projets d'architecture
La Classe, an Old School Conversion in Belgium | HomeDSGN, a daily source for inspiration and fresh ideas on interior design and home decoration. | Rendons visibles l'architecture et les architectes
odile decq: (phantom) opera restaurant paris
first image '(phantom) l'opéra restaurant' by odile decq, paris, france image © designboom french architect odile decq has completed the ' (phantom) l'opéra restaurant ', which recently opened in the palais garnier located in paris, france. recessed within the historical building, visitors pass the facade's original pillars to enter the undulating interior. the mezzanine space is carefully integrated to resist touching the existing structure's walls, columns and roof. the contemporary addition compliments the classical details of the vaulted stone ceiling without altering history.
House on the Flight of Birds | interiorscreation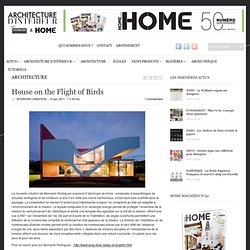 La nouvelle création de Bernardo Rodrigues surprend d'abord par sa forme : composée d'assemblages de volumes rectilignes et de rondeurs, le tout n'en reste pas moins harmonieux, s'inscrivant avec subtilité dans le paysage. La composition en devient d'autant plus intéressante lorsque l'on comprend qu'elle est adaptée à l'environnement de la maison. La façade composée d'un rectangle orange permet de protéger l'ensemble de la maison du vent provenant de l'Atlantique et abrite une terrasse très agréable sur le toit de la maison, offrant une vue à 360° sur l'ensemble de l'île.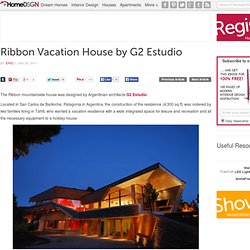 Ribbon Vacation House by G2 Estudio
The Ribbon mountainside house was designed by Argentinian architects G2 Estudio .