Projets d'architecture
melbourne-based searle x waldron architecture has recently completed the annexe for the 'art gallery of ballarat' within the city of ballarat, australia. a dramatic roof form extends beyond the building's footprint, addressing alfred daekin place and the historic camp street. comprised of a linear composition of timber struts, the canopy filters dappled daylight onto the ground plane whileframing outward views of the encompassing campus. the multi-purpose space accommodates talks, workshops, installations and gallery events. an operable glass facade may be opened, transforming the area into a bandstand for concerts to the public.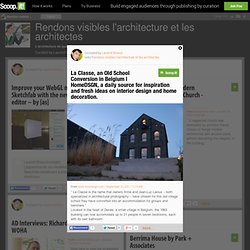 La Classe, an Old School Conversion in Belgium | HomeDSGN, a daily source for inspiration and fresh ideas on interior design and home decoration. | Rendons visibles l'architecture et les architectes
House on the Flight of Birds | interiorscreation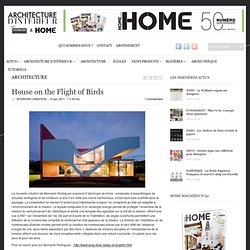 La nouvelle création de Bernardo Rodrigues surprend d'abord par sa forme : composée d'assemblages de volumes rectilignes et de rondeurs, le tout n'en reste pas moins harmonieux, s'inscrivant avec subtilité dans le paysage. La composition en devient d'autant plus intéressante lorsque l'on comprend qu'elle est adaptée à l'environnement de la maison. La façade composée d'un rectangle orange permet de protéger l'ensemble de la maison du vent provenant de l'Atlantique et abrite une terrasse très agréable sur le toit de la maison, offrant une vue à 360° sur l'ensemble de l'île.
Eco-chic design at C&C House, Grenada, Spain Granada-based architectural practice, Arias Recalde Taller de arquitectura, has designed the C&C House project. The modern home in Dúdar, Granada, Spain was used as a holiday home but has been refurbished by the owners child so it could become their first-home.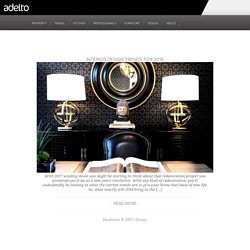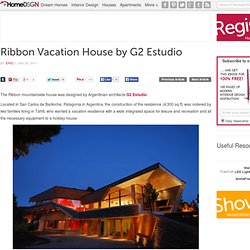 Ribbon Vacation House by G2 Estudio
The Ribbon mountainside house was designed by Argentinian architects G2 Estudio. Located in San Carlos de Bariloche, Patagonia in Argentina, the construction of the residence (4,300 sq ft) was ordered by two families living in Tahiti, who wanted a vacation residence with a wide integrated space for leisure and recreation and all the necessary equipment to a holiday house. According to the architects, "the initial idea comes from the juxtaposition of volumes, each containing different functions, on one hand the social life and in the others the private life. When this volumes meet each other, mixing the geometry and the space, it generate dynamic routes between the activity and rest areas of the house, that getting in tension they experiment the transition between being supported on the rock to raise into the sky searching perfect visuals…