Blogs et sites sur SketchUp
FormFonts 3D Models | Visualize Better, Faster, Easier. Official Google SketchUp Blog. The Daily CatchUp | Daily Google SketchUp News. Available as a free upgrade for all LumenRT 4 users, this update adds improved export capabilities for all LumenRT supported platforms including CityEngine, MicroStation, Revit, and Sketchup. LumenRT 4 Studio is the most comprehensive system for transforming 3D models and designs into rich, nature-filled videos, images and real-time immersive experiences. Developed by the leading provider of natural scenery technology for the CG and movie industry, e-on software's LumenRT 4 Studio delivers breathtaking realism, superior performance and ground-breaking ease of use. Blog sur SketchUp, l'infographie 3D d'architecture et les métiers de l'image -ARCH'image. Nouveau livre collectif sur SketchUp en préparation Fin 2009 paraissait le premier ouvrage en français sur SketchUp, le livre collectif « Créer avec SketchUp, 16 projets de l'architecture au théâtre ».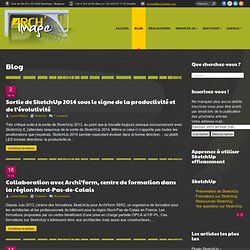 Destiné aux utilisateurs intermédiaires et experts de SketchUp, il rassemblait 16 études de cas d'utilisation professionnelle de SketchUp dans des domaines aussi variés que l'architecture, la création de mobilier, l'illustration, la reconstitution historique et même l'exploration pétrolière. Google SketchUp 3D Rendering Tutorials SketchUpArtists.
---