Mar
Shutter Island (2010) Shutter Island (2010) Edit Storyline It's 1954, and up-and-coming U.S. marshal Teddy Daniels is assigned to investigate the disappearance of a patient from Boston's Shutter Island Ashecliffe Hospital.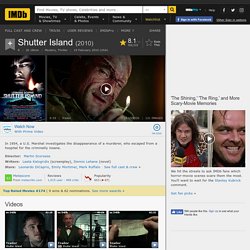 He's been pushing for an assignment on the island for personal reasons, but before long he wonders whether he hasn't been brought there as part of a twisted plot by hospital doctors whose radical treatments range from unethical to illegal to downright sinister. Teddy's shrewd investigating skills soon provide a promising lead, but the hospital refuses him access to records he suspects would break the case wide open. Le Mac (2009) Le mac (2010) Les Chèvres du Pentagone (2009) The Men Who Stare at Goats (2009) Edit Storyline A reporter, trying to lose himself in the romance of war after his marriage fails, gets more than he bargains for when he meets a special forces agent who reveals the existence of a secret, psychic military unit whose goal is to end war as we know it.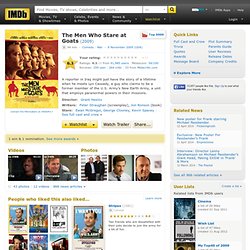 L'Arnacoeur (2009) L'arnacoeur (2010) Edit Storyline You could say Alex Lippi is a ladies' man but it is not true.

Of course he has already wooed and charmed armies of women, young and less young, French and foreign. But Alex does it only on active service. Indeed he is appointed to break up undesired couplings.
---