Jan
Mesrine : L'Ennemi public n
Ennemi public n°1, L' (2008)
The Spirit - AlloCin
Mouai, j'ai trouvé ça un peu naze... by Elrring Peace Mar 28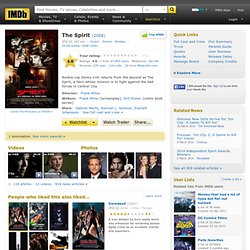 The Spirit (2008)
Edit Storyline Down these mean streets a man must come. A hero born, murdered, and born again. When a Rookie cop named Denny Colt returns from the beyond as The Spirit, a hero whose mission is to fight against the bad forces from the shadows of Central City.
Diamant 13 - AlloCin
Diamant 13 (2009)
Sept vies - AlloCin
Seven Pounds (2008)
Edit Storyline Haunted by a secret, Ben Thomas looks for redemption by radically transforming the lives of seven people he doesn't know. Once his plan is set, nothing will be able to stop him.