Egypte
Egypte, was het eerste Arabische land dat echt groot in het nieuws kwam in het Westen. voornamelijk dankzij social media. Jan 15
Begin opstand Egypte uitgeroepen tot feestdag - BUITENLAND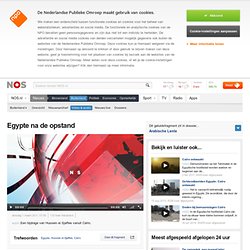 De Nederlandse Publieke Omroep maakt gebruik van cookies. We maken een onderscheid tussen functionele cookies en cookies voor het beheer van webstatistieken, advertenties en social media. De cookies bevatten geen persoonsgegevens en zijn dus niet tot een individu te herleiden. Met de cookies voor advertenties en social media worden mogelijk door derden gegevens verzameld buiten de websites van de Nederlandse Publieke Omroep. Bij instellingen kun je aangeven deze cookies niet te accepteren. Door hiernaast op akkoord te klikken of door gebruik te blijven maken van deze website, geef je toestemming voor het plaatsen van cookies bij bezoek aan de websites van de Nederlandse Publieke Omroep.
Egypte na de opstand
Betogers keren zich tegen de oproerpolitie in Caïro. Foto AP. Buitenland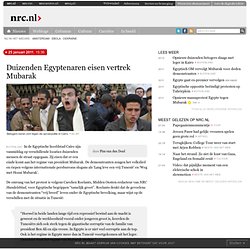 Duizenden Egyptenaren eisen vertrek Mubarak
Militaire loopbaan[bewerken] Politieke loopbaan[bewerken] Op 15 april 1975 benoemde president Sadat hem tot vicepresident. In de daaropvolgende jaren was hij de belangrijkste adviseur van president Sadat. Hij hervormde de veiligheidsdiensten, en was direct betrokken bij de onderhandelingen met Israël. Moebarak was ook de voornaamste bemiddelaar in het conflict tussen Marokko, Mauritanië en Algerije over de Westelijke Sahara.
Hosni Moebarak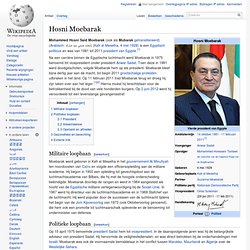 In Egypt, Social Media Acts as Protest Catalyst Despite Government Meddling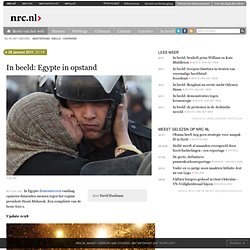 In beeld: Egypte in opstand
Buitenland In Egypte demonstreren vandaag opnieuw duizenden mensen tegen het regime president Hosni Mubarak. Een compilatie van de beste foto's. Update 0:28
Egyptische Revolutie (2011)
Twitter niet meer bereikbaar in Egypte - Internet & Media
Internet role in Egypt's protests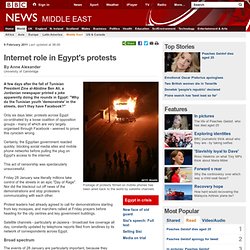 9 February 2011Last updated at 06:00 By Anne Alexander University of Cambridge Footage of protests filmed on mobile phones has been aired back to the world by satellite channels A few days after the fall of Tunisian President Zine al-Abidine Ben Ali, a Jordanian newspaper printed a joke apparently doing the rounds in Egypt: "Why do the Tunisian youth 'demonstrate' in the streets, don't they have Facebook?" Only six days later, protests across Egypt co-ordinated by a loose coalition of opposition groups - many of which are very largely organised through Facebook - seemed to prove this cynicism wrong.
Did social media create Egypt's revolution?
Egypt: Youth and Social Media
Egypt's Social Networking Revolution
Social Media | Youth | Egypt Revolution
Please support our site by enabling javascript to view ads. CAIRO, Egypt — Abdel Rahman Faris never saw it coming. When the news of Egyptian President Hosni Mubarak's resignation reached Faris' tent in Tahrir Square on Friday, the 30-year-old blogger, along with tens of thousands around him, erupted in jubilation.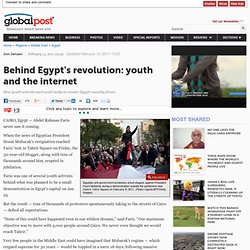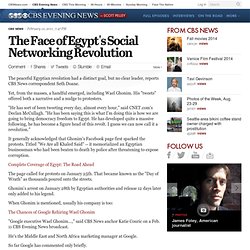 The peaceful Egyptian revolution had a distinct goal, but no clear leader, reports CBS News correspondent Seth Doane. Yet, from the masses, a handful emerged, including Wael Ghonim. His "tweets" offered both a narrative and a nudge to protesters. "He has sort of been tweeting every day, almost every hour," said CNET.com's Declan McCullagh. "He has been saying this is what I'm doing this is how we are going to bring democracy freedom to Egypt. He has developed quite a massive following, he has become a figure head of this revolt.
The Face of Egypt's Social Networking Revolution
De huidige gebeurtenissen in Egypte worden door velen aangeduid als een 'Twitterrevolutie', vergelijkbaar met hoe dat in 2009 ook gebeurde bij de Iraanse verkiezingen. Hoewel sociale media een belangrijke rol spelen in onze nieuwsvoorziening uit de regio, zijn ze niet verantwoordelijk voor de opstand. Dat schrijft Dirk Wanrooij vanuit Kairo in een bijdrage aan het nextblog. In verschillende verhalen wordt de rol van nieuwe media in de opstanden in Egypte en Tunesië uitvoerig benadrukt, in sommige gevallen zelfs verantwoordelijk gehouden voor de gebeurtenissen. Oproepen voor demonstraties kregen binnen enkele dagen honderdduizenden leden op Facebook, maar activisten en mensen buiten benadrukken dat nieuwe media niet verantwoordelijk zijn voor de massa's op straat.
Egypte is geen 'Twitterrevolutie'