Egypte
Egypte, was het eerste Arabische land dat echt groot in het nieuws kwam in het Westen. voornamelijk dankzij social media. Jan 15
Begin opstand Egypte uitgeroepen tot feestdag - BUITENLAND
Hier wordt aangegeven hoe belangrijk de revolutie was voor Egypte. Zo belangrijk dat ze er een feestdag van maken. by laurensippel Mar 20
Egypte na de opstand
Hoe het nu verder moet met Egypte na de opstand. by laurensippel Mar 20
Betogers keren zich tegen de oproerpolitie in Caïro. Foto AP. Buitenland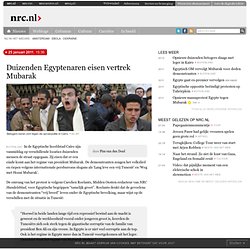 Duizenden Egyptenaren eisen vertrek Mubarak
De start van de revolutie in Egypte. Ze eisen het vertrek van Mubarak by laurensippel Mar 20
Militaire loopbaan[bewerken] Politieke loopbaan[bewerken]
Hosni Moebarak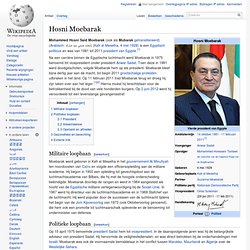 deze Wikipedia pagina geeft aan wie Hosni Moebarak was en wat hij heeft gedaan by laurensippel Mar 20
In Egypt, Social Media Acts as Protest Catalyst Despite Government Meddling
Dit filmpje vertelt hoe de Egyptische regering de social media tegenwerkt maar dat ondanks dat de invloed toch zeer groot was. by laurensippel Mar 20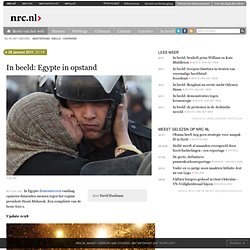 In beeld: Egypte in opstand
Buitenland
De Egyptische opstand in beeld gebracht met een fotoreportage by laurensippel Mar 20
De Egyptische Revolutie van 2011 was gericht tegen de toenmalige Egyptische regering en het regime van president Hosni Moebarak. Na enkele zelfverbrandingen op 17 en 18 januari, die in de media in verband werden gebracht met het begin van de Jasmijnrevolutie in Tunesië, vingen op 25 januari op grotere schaal protesten aan.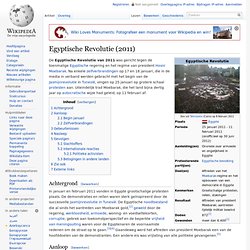 Egyptische Revolutie (2011)
deze Wikipedia pagina legt globaal uit hoe de Egyptische revolutie is begonnen en verlopen. by laurensippel Mar 20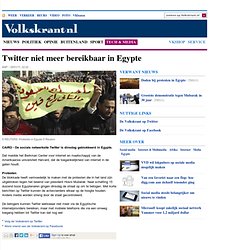 © reuters. Protesten in Egypte © Reuters Dat meldde het Berkman Center voor internet en maatschappij van de Amerikaanse universiteit Harvard, dat de toegankelijkheid van internet in de gaten houdt.
Twitter niet meer bereikbaar in Egypte - Internet & Media
Dit artikel legt uit hoe en waarom Twitter geblokkeerd is door de Egyptische overheid by laurensippel Mar 20
Internet role in Egypt's protests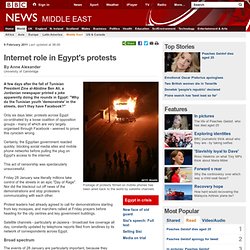 9 February 2011Last updated at 06:00 GMT By Anne Alexander University of Cambridge
dit verhaal legt uit hoe internet en met name social media een rol spelen bij de Egyptische revolutie by laurensippel Mar 20
Did social media create Egypt's revolution?
Dit filmpje beantwoord de vraag of social media heeft geholpen met het creëren van de revolutie by laurensippel Mar 20
Egypt: Youth and Social Media
dit filmpje gaat over de visie en het gebruik van en door jongeren met social media en het effect op de revolutie by laurensippel Mar 20
Egypt's Social Networking Revolution
hier wordt uitgelegd wat het effect van de social media op de revolutie is en hoe dit effectief kon zijn by laurensippel Mar 20
Social Media | Youth | Egypt Revolution
Advertisement Please support our site by enabling javascript to view ads. CAIRO, Egypt — Abdel Rahman Faris never saw it coming.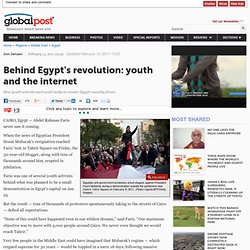 een achtergrond verhaal over hoe de Egyptenaren social media hebben gebruikt tegen de overheid by laurensippel Mar 20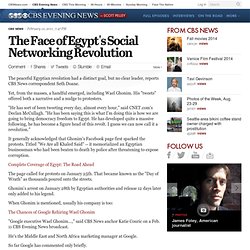 The peaceful Egyptian revolution had a distinct goal, but no clear leader, reports CBS News correspondent Seth Doane. Yet, from the masses, a handful emerged, including Wael Ghonim. His "tweets" offered both a narrative and a nudge to protesters. "He has sort of been tweeting every day, almost every hour," said CNET.com's Declan McCullagh. "He has been saying this is what I'm doing this is how we are going to bring democracy freedom to Egypt. He has developed quite a massive following, he has become a figure head of this revolt.
The Face of Egypt's Social Networking Revolution
Dit bericht gaat over wie het gezicht is van deze revolutie. In Tunesië was het Bouazizi. WIe is dat in Egypte by laurensippel Mar 20
De huidige gebeurtenissen in Egypte worden door velen aangeduid als een 'Twitterrevolutie', vergelijkbaar met hoe dat in 2009 ook gebeurde bij de Iraanse verkiezingen.
Egypte is geen 'Twitterrevolutie'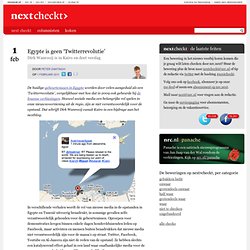 Deze blog spreekt het juist tegen dat Social media de verantwoordelijke is voor de val van de regimes by laurensippel Mar 20