Economics and environment
Get flash to fully experience Pearltrees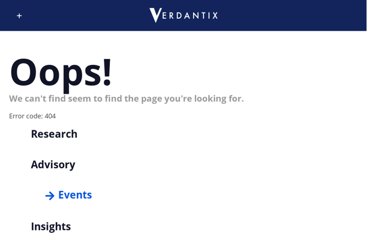 Published: 01 September 2010 Access This Report This report is available to Verdantix clients with a Knowledge Service Subscription. Verdantix clients:
newsletter signup View All Recent News Recent News » New EcoAgriculture publication: Payments for watershed services in the US EcoAgriculture Partners has published a new policy brief entitled Payments for watershed services in the United States: Cost-effective strategies to align landowner incentives for abundant clean water . The brief, number seven in our Policy Focus series, and based on a longer report published earlier this year by Terhi Majanen, Rachel Friedman and Jeff Milder, outlines lessons learned from the distribution of payments for watershed services (PWS) programs in the United States and the motivations of the various actors involved. There is growing interest in the use of PWS on agricultural and forested land as a voluntary, market-based mechanism that pays farmers or landowners to provide watershed services through the adoption of specific land management practices.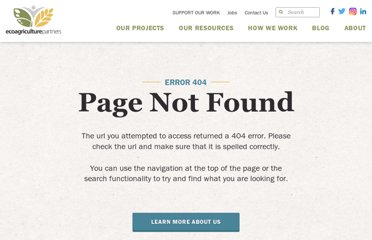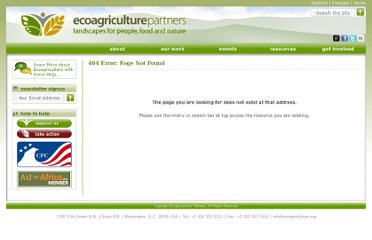 newsletter signup View All Recent News Recent News » Filled: EcoAgriculture Seeks Program Associate (Assistant to the President) EcoAgriculture Partners Program Associate (Assistant to the President) EcoAgriculture Partners ("EcoAgriculture") is an international non-profit organization that works to facilitate sustainable food production, rural livelihoods, and environmental conservation globally. The organization does so by developing and promoting integrative approaches to rural landscape management, by engaging in regional and global policy processes, and by supporting the work of our diverse grassroots and international partners.
Shannon Hayes: Why are my prices higher than those at the supermarket? Glad you asked. posted Jan 30, 2012
Nov. 28, 2011 11:40 a.m. Is there a science of sustainability, or does it remain a catch-all category for a motley collection of scientific studies, policy efforts, and causes that encourage a harmonious relationship between humans and the natural world? In a study published in PNAS, a team led by SFI External Professor Luis Bettencourt does the math and concludes that sustainability became a legitimate scientific field just over a decade ago, that it is a rapidly growing field with a geographically diverse community of contributors, and that it merges fields that had not been merged before. In the study, Bettencourt and collaborator Jasleen Kaur of Indiana University assembled the products of the 36-year history of sustainable development – some 20,000 academic papers written by 37,000 distinct authors representing 174 countries and over 2,200 cities, all published between 1974 and 2010.
The CASSE reading list provides a useful list of articles, books, book reviews, and other publications about the steady state economy, limits to economic growth, ecological economics, and sustainability issues. Where available, these resources can be downloaded from the listings. Publications are sorted into the following categories: CASSE also maintains a more extensive bibliography on these and related topics. Please contact us if you want more information about resources in our bibliography.
CASSE salutes a number of organizations that are working on the economic paradigm shift from growth to sustainability. Some of these organizations are listed below in the following categories: Economics Organizations Promoting Sustainability Rather Than Growth Economics for Equity and the Environment (E3 Network) This network of economists develops and applies economic arguments for active protection of human health and the natural environment.