Folk/Oldies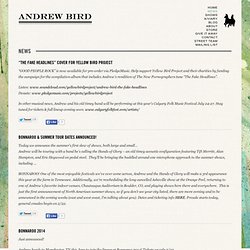 Andrew Bird
"The Fake Headlines" Cover for Yellow Bird Project "GOOD PEOPLE ROCK" is now available for pre-order via PledgeMusic. Help support Yellow Bird Project and their charities by funding the campaign for the compilation album that includes Andrew's rendition of The New Pornographers tune "The Fake Headlines".
Andrew Bird - Break It Yourself
Amos Lee
Tuesday 28/02/2014: Last night artists gathered to celebrate the 50th anniversary of The Beatles first appearance on the Ed Sullivan show during the band's first visit to the US. The incredible list of musicians and artists who joined Paul and Ringo on stage included Stevie Wonder, Katy Perry, John Mayer, Alicia Keys, Dhani Harrison performing alongside Joe Walsh and Jeff Lynne, Pharrell Williams singing with the cast of The Beatles LOVE show, Annie Lennox and Dave Stewart reunited as Eurythmics, Sean Penn, Kate Beckinsale and Johnny Depp, L L Cool J, Monty Python's Eric Idle, Ed Sheeran, Dave Grohl and Maroon 5. The two-hour show will tape on Monday, Jan. 27, 2014, the day after the 56th Annual GRAMMY Awards, and will be broadcast in HDTV and 5.1 surround sound on the CBS Television Network Sunday, Feb. 9, 2014, from 8–10 p.m. ET/PT — exactly 50 years to the day, date and time of the original event.