Quotes
Words on Pictures (Part 13) | SadAndUseless.com. 6a00d8341c71c353ef01053699093f970b-pi (1600×1200) Awesomist. Reel Wisdom: Lessons From 40 Films in 7 Minutes. I am thankful because... - StumbleUpon. - StumbleUpon. Quotes To Live By. _lkpfp2wVnn1qj0rpso1_400.jpg (JPEG Image, 400x400 pixels) StumbleUpon.
- StumbleUpon. Cute Pin-Up Quotes - Part 2 | Fun Quotes | Famous Quotes  Quotes are funny, wise, inspirational, and/or cheerful things that people have said.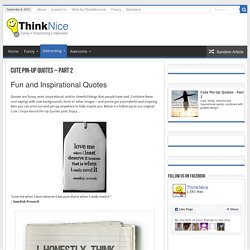 Combine these cool sayings with cute backgrounds, fonts or other images – and you've got a wonderful and inspiring item you can print out and pin-up anywhere to help inspire you. Below is a follow-up to our original Cute / Inspirational Pin-Up Quotes post. Demotivational Sayings - ANIMALS GONE WILD Edition & GLASS HALF FOOL.
---