NIN 2.0 case study
Michael Masnick The Trent Reznor case study. MIDEM(Net) Blog: MidemNet video: Nine Inch Nails case study, by. Blog Archive » Nine Inch Nails Case Study. How To Market Like Nine Inch Nails. How To Market Like Nine Inch Nails Photo: Jennifer Vecellio Trent Reznor, frontman for industrial rock band Nine Inch Nails, has earned a reputation as a marketing maverick.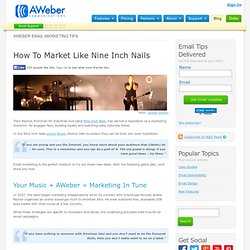 He engages fans, building loyalty and watching sales naturally follow. In the Nine Inch Nails online forum, Reznor tells musicians they can be their own best marketers: Nine Inch Nails: The First Open-Source Band? January 10, 2009, 4:11 PM — Throughout his 20+ year career as the man behind industrial-rock act Nine Inch Nails, Trent Reznor has been no stranger to the ways of Creative Commons and digital distribution.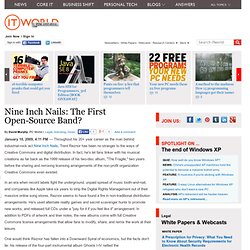 In fact, he's let fans tinker with his musical creations as far back as the 1999 release of his two-disc album, "The Fragile," two years before the sharing and remixing licensing arrangements of the non-profit organization Creative Commons even existed. In an era when record labels fight the underground, unpaid spread of music tooth-and-nail, and companies like Apple take six years to strip the Digital Rights Management out of their massive online song stores, Reznor seems to have found a fire in non-traditional distribution arrangements. Nine Inch Nails Sparks Web Marketing Conspiracy » Adotas.
Written on Feb 16, 2007 Author Kiran Aditham |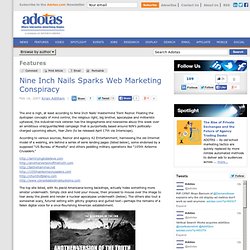 Nine Inch Nails and Viral Marketing : The Plugg - Music and Ente. By: Kendall | in: General, Music, Technology | In most calendars there is no year 0.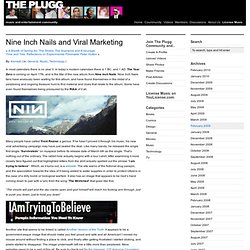 In today's modern calendars there is 1 BC, and 1 AD. The Year Zero is coming on April 17th, and is the title of the new album from Nine Inch Nails. Bavardages Marketing. A l'heure où l'industrie de la musique s'affole et pointe du doigt les vilains petits internautes qui mettent les artistes au bord de la faillite, les obligeant presque à devoir retourner chanter dans le métro, Trent Reznor, le très futé leader du groupe Nine Inch Nails, s'en met plein les poches avec un album en téléchargement gratuit.
Si, si. En 2008, les albums Ghost I-IV et The Slip étaient offerts, à disposition sur le site du groupe. Et pourtant, The Slip s'est vendu à près de 100 000 copies et Ghost I-IV fut l'album le plus vendu de l'année sur Amazon.com. Les fans de NIN seraient-ils un peu crétins sur les bords ? Que nenni. Nine Inch Nails – Another Version of the Truth : The Gift.
Après avoir distribué gratuitement son album sur le net, Nine Inch Nails à la suite de sa tournée 2009 aux Etats Unis, a confié 405 GB de vidéos HD à leurs fans, pour qu'ils en fassent ce qu'ils veulent.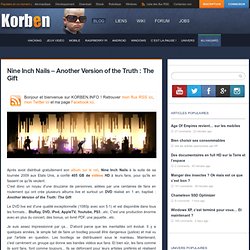 C'est donc un noyau d'une douzaine de personnes, aidées par une centaines de fans en roulement qui ont crée plusieurs albums live et surtout un DVD réalisé en 1 an, baptisé : Another Version of the Truth: The Gift Le DVD live est d'une qualité exceptionnelle (1080p avec son 5.1) et est disponible dans tous les formats... The Future Of Music Business Models (And Those Who Are Already T. I'm at the Midem conference this week, and in preparing for it, Steven Masur asked me to write up a chapter for a book he was putting together of thoughts from various thinkers for a gathering of the International Association of Entertainment Lawyers (IAEL) here at Midem.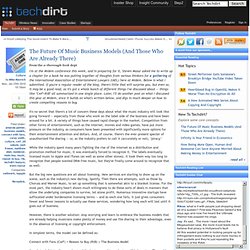 Below is what I submitted. If you're a regular reader of the blog, there's little that will surprise you, but even so, it may be a good read, as it's got a whole bunch of different things I've discussed about -- things like "CwF+RtB" all summarized in one single place. Later, I'll do another post on what I discussed this year at Midem, since it builds on what's written below, and digs in much deeper on how to create compelling reasons to buy. It's no secret that there's a lot of concern these days about what the music industry will look like going forward -- especially from those who work on the label side of the business and have been around for a bit. A variety of things have caused rapid change in the market.
My MidemNet Presentation: Trent Reznor And The Formula For Futur. A version of this post has been crossposted to the MidemNet blog.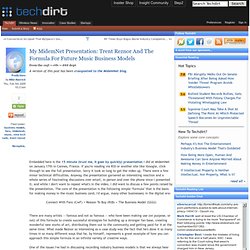 Embedded here is the 15 minute (trust me, it goes by quickly) presentation I did at MidemNet on January 17th in Cannes, France. If you're reading via RSS or another site like iGoogle, click through to see the full presentation. Sorry it took so long to get the video up.
---