How To Destroy Angels
How To Destroy Angels on Vimeo
01 on Vimeo
02 on Vimeo
03 on Vimeo
04 on Vimeo
HTDA (destroyangels) on Twitter
HOW TO DESTROY ANGELS
How To Destroy Angels on MySpace Music - Free Streaming MP3s, Pi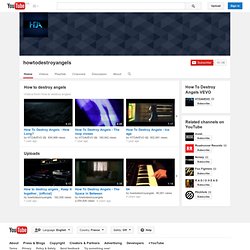 Chaîne de howtodestroyangels
Welcome to YouTube! The location filter shows you popular videos from the selected country or region on lists like Most Viewed and in search results.To change your location filter, please use the links in the footer at the bottom of the page.
HOW TO DESTROY ANGELS
How to Destroy Angels (stylized How to destroy angels_ ) is a musical group featuring Nine Inch Nails frontman Trent Reznor , his wife Mariqueen Maandig , Atticus Ross , [ 4 ] and Rob Sheridan [ 5 ] (who is also the group's art director). [ 6 ] The group is named after a 1984 Coil single of the same name . [ 7 ] [ edit ] Releases The band's first release was a self-titled EP, released on June 1, 2010. [ 8 ] The band released a track from the album, "A Drowning", as a digital single, [ 9 ] and a second song, "The Space in Between", debuted as a video on Pitchfork on May 14, 2010. [ 10 ] A third track, "The Believers", was made available through Wired magazine 's iPad application, along with a dissection and analysis of the song, and through a free digital download from the official website. "The Believers" is also featured on the soundtrack of the 2011 film Limitless .
How To Destroy Angels (band)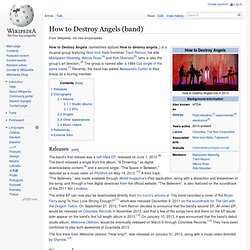 How to Destroy Angels
How To Destroy Angels: The Space in Between [HD] on Vimeo