Women & Power
Articles about women. Jan 25
One Of You [ Reshma Saujani for New York City Public Advocate ]
My first job in journalism was at a local newspaper staffed mostly by men. When many of them left for gigs elsewhere, I was told that hiring decisions would be based on finding the "best person for the job." In a matter of months, we had staffed all of our management positions with three white men named Mike.
Boys Will Hire Boys: The Media Is Male and Getting Maler - News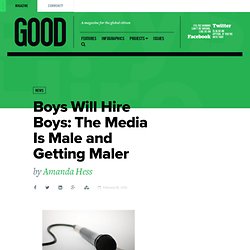 Women And Collective Intelligence Will Solve Our Planetary Crises
Sustainability is a so-called wicked problem . It is complex, difficult to define, impossible to solve in a linear fashion and the aspects of the problem are so interrelated that it is impossible to consider (and therefore impossible to model) all of the unintended consequences that might accompany any single "solution." This complexity makes us anxious. The common approach in the past has been to reduce the problem to smaller parts, solve for "x," and hope that these disparate solutions aggregate positively. The nature of wicked problems is that they yield to the truth of systems--the consequences of one action are difficult to completely predict because of the many moving parts and interacting factors.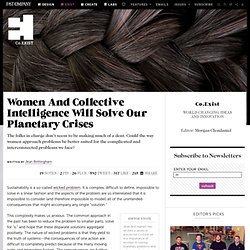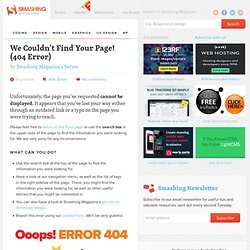 CAPTCHAs, or Completely Automated Public Turing Tests to Tell Computers and Humans Apart, exist to ensure that user input has not been generated by a computer. These peculiar puzzles are commonly used on the Web to protect registration and comment forms from spam. To be honest, I have mixed feelings about CAPTCHAs. They have annoyed me on many occasions, but I've also implemented them as quick fixes on websites.
Why Your Next Board Member Should Be A Woman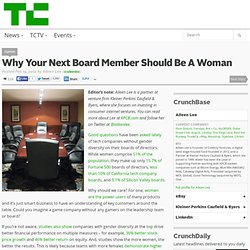 Editor's note: Aileen Lee is a partner at venture firm Kleiner Perkins Caufield & Byers, where she focuses on investing in consumer internet ventures. You can read more about Lee at KPCB.com and follow her on Twitter at @aileenlee . Good questions have been asked lately of tech companies without gender diversity on their boards of directors. While women comprise 51% of the population , they make up only 15.7% of Fortune 500 boards of directors, less than 10% of California tech company boards , and 9.1% of Silicon Valley boards . Why should we care?
The Face of Success, Part 2: Where Are All the Female Tech Geniuses?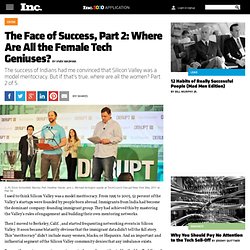 The success of Indians had me convinced that Silicon Valley was a model meritocracy. But if that's true, where are all the women? Part 2 of 5. Joe Corrigan/Getty Images for AOL via Flickr
Sheryl Sandberg was once in a meeting in New York, pitching a deal, when she needed a bathroom break. Embarrassed, the man to whom she was pitching had to admit he had no idea where the women's bathroom was. Sandberg wondered whether they had just moved in to the office. No, came the reply, they had been there for a year.
Sheryl Sandberg: the first lady of Facebook takes the world stage | From the Guardian