Web Design & Development
New Facebook Pages with Timeline Design – 12 Pros & Cons. With Visual.ly Redesign, It's Easier Than Ever To Make And Share Cool Infographics. When Co.Design first wrote about data visualization startup Visual.ly, CEO Stew Langille hinted that he was already planning the young company's next move.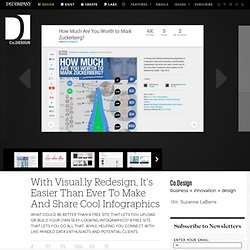 "We'll have to be nimble," he told Cliff Kuang in 2011. "As this market evolves, we'll have to evolve with it. " And evolve they have. Today, the company unveiled a major redesign that adds social functionality, community features, and a slick new interface for browsing Visual.ly's massive inventory of user-generated infographics. "It represents a step toward the future," Langille tells Co.Design over email, "making it possible for everyone to participate, communicate, and collaborate in the infographic creation process." 12 Annoying Things About Your Website That Drive People Away. How many times have you visited a website and ended up sorely disappointed?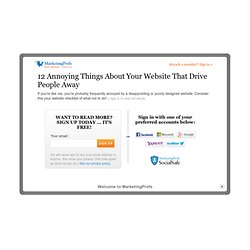 Or worse, annoyed as all get out? For me, the answer is an easy one: a lot!
PremiumCoding. For U.S. companies, EU cookie compliance calls for website changes. Current estimates put the number of Internet users in the European Union (EU) at more than half a billion, making it an attractive target for online businesses.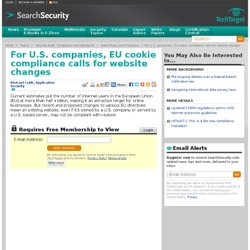 But recent and proposed changes to various EU directives mean an existing website, even if it's owned by a U.S. company or served by a U.S. -based server, may not be compliant with revised. 12 Critical Elements Every Homepage Must Have [Infographic] If you're considering a website redesign or are wondering how to generate more leads from your website, there are several critical elements you must never forget to include.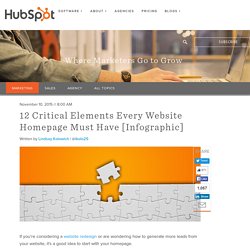 Let's first take a look at the homepage. Ah yes, "thee page of all pages." It's undoubtedly one of the most important areas on a website. Internet Marketing Tools: Free SEO Tools. GTmetrix | Website Speed and Performance Optimization. 5 Essential Elements of Fantastic Top of Funnel Offers. Popular Today in Business: All Popular Articles You've already done your on page SEO.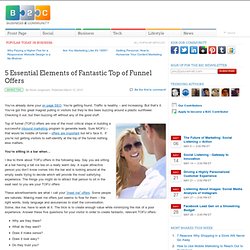 You're getting found. Traffic is healthy – and increasing. Five Ways to Improve the Visitor Experience of Your Website. Popular Today in Business: All Popular Articles No matter how good the product is that's being sold online, if the website is not convenient for customers to use, it's very possible they will move on to another site and never come back.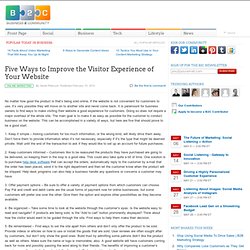 It is paramount for business owners to find ways to make visiting their website a good experience for customers.
Landing Pages
Webmonkey - The Web Developer's Resource | Wired.com.
---