Social Networks
Get flash to fully experience Pearltrees
So you're annoyed that Facebook replaced the email address you listed on the social network with a @Facebook email you never use. Maybe you wish they'd let you edit your posts, rather than just the comments , and you're wondering why comment editing took so long anyway. Perhaps you still have issues with the Timeline profile that was foisted on you, or you're enormously irritated with Facebook's still-lousy mobile app.
Startups usually succeed because of a single major product or business innovation. Google is unusual in that they succeeded because of two major innovations: their core search product, and their keyword advertising business model. Back in 2000, when Google was wildly popular but generating no revenue, the conventional wisdom was that their business model was uncertain. Then Overture invented keyword advertising and Google adopted the same model. This turned out to be both wildly profitable and also, remarkably, created a better experience for both advertisers and users. Facebook relies on an old internet business model: display ads.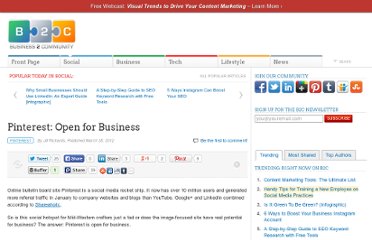 Online bulletin board site Pinterest is a social media rocket ship.
Followers: 697K John Hodgman is an expert at nobody knows exactly what.
Twitter will censor tweets in certain countries while still publishing them throughout the rest of the world, the company said Thursday on its blog . "As we continue to grow internationally, we will enter countries that have different ideas about the contours of freedom of expression. Some differ so much from our ideas that we will not be able to exist there," the company said.
Google has started integrating Google+ users' public posts into the search engine's social search results, one-upping Facebook by wielding its search strengths to boost its fledgling social network's features.