Social Business
If You're Not Helping Lay The Foundation For A Social Business, You Need To Start Now. The movement of information is key to today's global economy.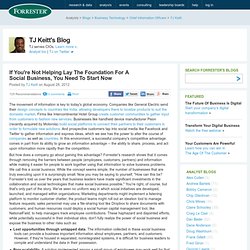 Companies like General Electric send their design concepts to countries like India, allowing developers there to localize products to suit the domestic market. Firms like Intercontinental Hotel Group create customer communities to gather input from customers to fashion new services. Businesses like handheld device manufacturer Psion (recently acquired by Motorola) build social platforms to connect their partners to their customers in order to formulate new solutions. And prospective customers tap into social media like Facebook and Twitter to gather information and express ideas, which we see has the power to alter the course of companies as well as countries. In this environment, a successful company's competitive advantage comes in part from its ability to grow an information advantage -- the ability to share, process, and act upon information more rapidly than the competition.
How to Track Your Website's Content on Pinterest. Ann Smarty is a search marketer and full-time web entrepreneur.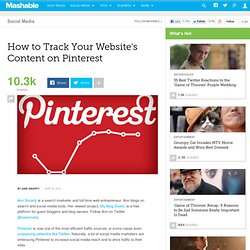 Ann blogs on search and social media tools. Her newest project, My Blog Guest, is a free platform for guest bloggers and blog owners. Follow Ann on Twitter @seosmarty. Businesses: Find, Reward Your Influencers With Yamana. The Spark of Genius Series highlights a unique feature of startups and is made possible by Microsoft BizSpark.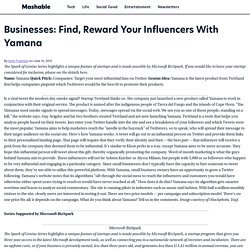 If you would like to have your startup considered for inclusion, please see the details here. Name: Yamana Quick Pitch: Companies: Target your most influential fans on Twitter. Can You Measure the ROI of Your Social Media Marketing? References (10) 1.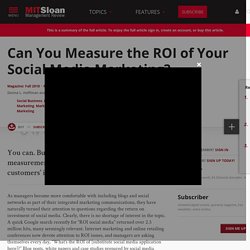 Lenskold Group, "2009 Lenskold Group/MarketSphere Marketing ROI and Measurements Study" (Manasquan, New Jersey: Lenskold Group, 2009). 2. D.L. How Social Fits the Sales Funnel. Business partner, Kent Gregoire shared a blog post with me that was written by Greg Alexander over at Sales Benchmark Index.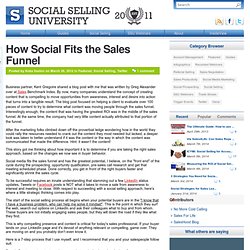 By now, many companies understand the concept of creating content that is compelling to move opportunities from awareness, interest and desire into action that turns into a tangible result. The blog post focused on helping a client to evaluate over 100 pieces of content to try to determine what content was moving people through the sales funnel. Interestingly enough, the content that was having the greatest ROI was in the middle of the sales funnel. Unmetric, Watches Your Competitors' Social Media Presence. How do big brands stand up to competitors?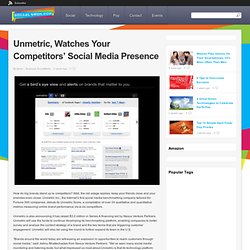 Well, the old adage applies: keep your friends close and your enemies even closer. Unmetric Inc., the Internet's first social media benchmarking company tailored for Fortune 500 companies, debuts its Unmetric Score, a compilation of over 24 qualitative and quantitative metrics measuring online brand performance vis-à-vis competitors. Unmetric is also announcing it has raised $3.2 million in Series A financing led by Nexus Venture Partners.
Get Social: 11 Management Systems That Can Help - The BrainYard. Social media management systems can help your organization manage and measure increasingly sophisticated social strategies. 1 of 12 Remember the early days of the Web, when publishing and managing content was a Wild West of HTML?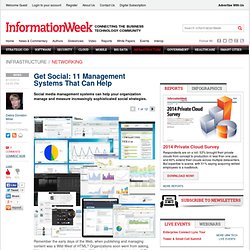 Organizations soon went from asking, "What do we do with this thing? " to "What don't we do with this thing? " The Future Career of the Corporate Social Strategist. Over the past few years, I've tracked the emergence, rise, and growth of this new role within corporations.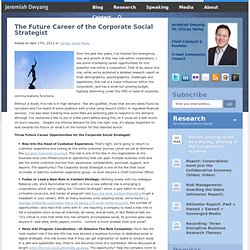 I see some interesting career opportunities for this powerful role within a corporation. First of all, about this role, while we've published a detailed research report on their demographics, psychographics, challenges and aspirations, this role is a major influencer within the corporation, and has a small but growing budget, typically stemming under the CMO or head of corporate communications functions. Without a doubt, this role is in high demand: few are qualified, those that are are easily found by recruiters and I've heard of some positions with a total comp beyond 200k+ in regulated financial services. B2B Marketers Optimistic About Social Media for Lead Generation. It's no surprise that business-to-business marketers and agencies are looking for leads online.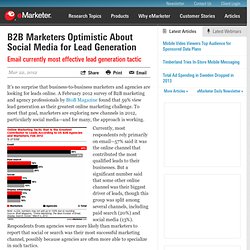 A February 2012 survey of B2B marketing and agency professionals by BtoB Magazine found that 59% view lead generation as their greatest online marketing challenge. To meet that goal, marketers are exploring new channels in 2012, particularly social media—and for many, the approach is working. Currently, most respondents rely primarily on email—57% said it was the online channel that contributed the most qualified leads to their businesses. Turn Your LinkedIn Company Page Into A Sales Magnet. As LinkedIn continues to grow in popularity as a proven social media marketing platform for B2B companies, the LinkedIn company page offering continues to evolve as well with new features for marketers to fully leverage this tool.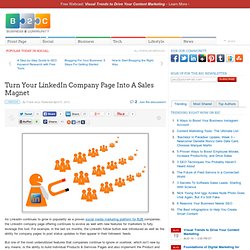 For example, in the last six months, the LinkedIn follow button was introduced as well as the ability for company pages to post status updates to then appear in their followers' feeds. But one of the most underutilized features that companies continue to ignore or overlook, which isn't new by any means, is the ability to build individual Products & Services Pages and also implement the Product and Service Spotlight feature. Social Media's Influence on Sales. The influence of social media on the conversion of sales is outstanding compared to traditional marketing. Being involved and creating a community using social media has never been as important as it currently is today. It is a proven science that a one-on-one interaction with customers creates a rapport between the consumer and the business. Building trust and loyalty converts into more sales PERIOD!
How to Harness the Power of LinkedIn [Infographic] A presentation on the topic of how to cook a chocolate tart is going to "bomb"at a cheese maker's convention. It will be the wrong audience for an interesting topic, but the cheesemakers didn't pay $1,200 for a conference ticket to hear information about "Tarts"! A paying participant at a car dealer expo will want to hear about horsepower and handbrakes and will either leave the hall or fall asleep if the speakers start talking about knitting and slipper making. The art of successful communicating and engagement involves selecting the right audience and providing them with information and content that resonates with their needs and wants.
Not all Social Networks are Equal. 6 Ways To Use Pinterest To Promote Your Business. The best way to think of Pinterest, if you're not familiar with it, is as your personal or business bulletin board – it's where you pin pictures of things you like: your style, your interests, your aspirations…anything you can represent with images from the internet. Pinterest also happens to be the hottest social media network, with growth in the past 6 months of over 4,000%. And people aren't just taking a peek at the site and leaving; the average visit is more than an hour – Facebook is about 16 minutes, LinkedIn about the same. How Pinterest Works Pinterest users share photos they find online by "pinning" them, the equivalent of "liking" on Facebook.
To pin, users download a toolbar that grabs the image and identifies the source site. Pinterest Drives Enormous Blog and Business Success. This is Kate. She's a hairstylist, jewelry maker, and all-around crafter based in North Carolina. Kate started her blog (thesmallthingsblog.com) exactly one year ago. And like most of us, it was a labor of love without a whole lot of "community." Is Facebook Advertising Too Cheap? Business 2 Community - Building Deeper Business Relationships Through Engaging Communities.
4 Strategic Requirements For Corporate Tweeting. Michelle Obama's first day on Twitter was the tweet heard 'round the world, with more than 60,000 followers signing up to follow her the morning she launched. Initial tweets from @MichelleObama noted that her staff would be doing the heavy lifting initially, but that every tweet from the First Lady herself would be signed "mo." It was a nice touch of transparency, creating excitement without over-promising. Mrs. Social Media, Liability and Insurance. Social Business - Social Intranets & Extranets - IGLOO Software. Jive Social Business - Collaboration & Social Software Solutions. The Stack: The Fifteen (now Sixteen) Classes of the Social Business Software Suite (Q4, 2010) 10 Strategies For Building A Successful Social Business. Social Business Software or Enterprise 2.0 Platform?
---