Graphic Design
Photoshop tutorials, plugins and downloads : The Photoshop Roadmap. Adobe Photoshop Tutorials on AdobeTutorialz.com. Which Links in Your Email Marketing Get the Most Clicks? If email is a regular part of your company's marketing mix, you've probably considered the some of the different ways email can engage your contacts.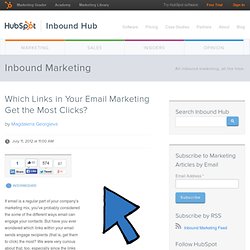 But have you ever wondered which links within your email sends engage recipients (that is, get them to click) the most? We were very curious about that, too, especially since the links within your email are critical for driving action -- and conversion -- from your email marketing . A Carefully Selected List of Recommended Tools on Datavisualization. When I meet with people and talk about our work, I get asked a lot what technology we use to create interactive and dynamic data visualizations.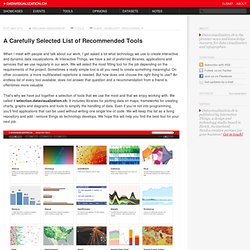 At Interactive Things, we have a set of preferred libraries, applications and services that we use regularly in our work. We will select the most fitting tool for the job depending on the requirements of the project. Sometimes a really simple tool is all you need to create something meaningful. On other occasions, a more multifaceted repertoire is needed. But how does one choose the right thing to use? Datavisualization.ch. Dieter Rams: ten principles for good design. Back in the late 1970s, Dieter Rams was becoming increasingly concerned by the state of the world around him – "an impenetrable confusion of forms, colours and noises."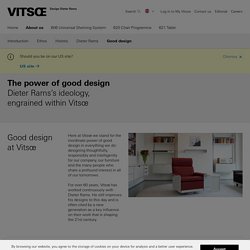 Aware that he was a significant contributor to that world, he asked himself an important question: is my design good design? As good design cannot be measured in a finite way he set about expressing the ten most important principles for what he considered was good design. Posts from everyone.
Design share blog | High-quality Web Design, Graphic Design, Photography, Web Development, Tutorials, Business, Social Media. Maxmedia. DesignModo - Design and Web Development Magazine, be Inspired and Creative. Free Photoshop Brushes at Brusheezy! 100 Free Fonts You Should Have in Your Library. Fonts have already been among the essential materials used by designers.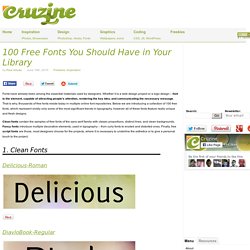 Whether it is a web design project or a logo design – font is the element, capable of attracting people's attention, rendering the key idea, and communicating the necessary message. That is why, thousands of free fonts reside today in multiple online font repositories. Below we are introducing a collection of 100 free fonts, which represent vividly only some of the most significant trends in typography, however all of these fonts feature really unique and fresh designs. Clean fonts contain the samples of free fonts of the sans serif family with classic proportions, distinct lines, and clean backgrounds.
Free fonts. Hottest Print & Web Design Trends 2011-2012. Just like the fashions in clothing change with the seasons, reviving old trends and reinventing current ones, graphic design has to breathe innovation, if designers want to stay ahead of their game.
Trends in this case are like waves that come and go and surge again. It is not so easy to identify them right away, and not everything is for everybody: just like with clothes, you have to find your perfect fit. Color Trends. Infographics Help Decision-Making Process. Filed under: All Infographics , Business Infographics | 2 Comments » Infographics Help Decision-Making Process Reviewed by Infographics Guy on Apr 1 Rating: Okay, a little self-promotion here.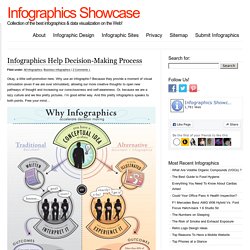 Why use an infographic? Because they provide a moment of visual stimulation (even if we are over stimulated), allowing our more creative thoughts to open new pathways of thought and increasing our consciousness and self-awareness. The Best Of 2011: Trendy Web Designs From Deviantart. Year 2011 is rolling forward swiftly and the middle of summer is nearly here.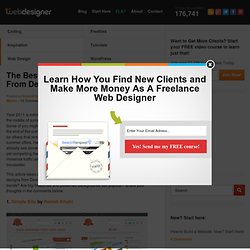 Some of you might unwittingly note that the end of the summer is inevitable while for others that remaining month and half is enough to fully enjoy the benefits that summer offers. Here in the virtual world the time is running even faster and we can already see some of the changes this year has brought to us. Imperceptibly and subtly yet compelling the new web design trends are conquering the scene. Because of the immense traffic and user count Deviantart can definitely be considered to be a trendsetter.
Bedesignful | Graphic Design Trends, Inspiration & Recommendations for Graphic Designers. Trend spotter's guide to 2011. It's always interesting to speak to the experts and find out what they think the creative industry trends of the next 12 months will be: what will drive them, what will influence them and how they will affect you, your work and your clients.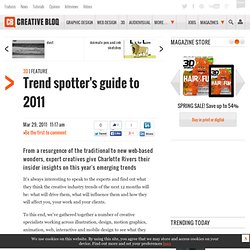 To this end, we've gathered together a number of creative specialists working across illustration, design, motion graphics, animation, web, interactive and mobile design to see what they think you should be looking out for in the coming months, and how best to take advantage of the emerging trends, styles and new technologies. Whether it's indie publishing for the iPad, the rise of a stripped-back design aesthetic, or the boom in glossy 3D motion graphics, read on to see how 2011's trends will affect your creative world. 5 Graphic Design Trends With Staying Power. Home » Design » 5 Graphic Design Trends With Staying Power One of the exciting things about the graphic design industry is that it's so creatively diverse and constantly evolving.
It can also be frustrating when trying to find a balance between personal artistic vision and the graphic design trends that are going to help clients to stand out and get more business through their visual branding. To help inspire and find that perfect combination of creative and lucrative, here are 5 graphic design trends continuing to make headway in 2011 that look like they'll be sticking around for awhile. Minimalistic and clean : Designers everywhere are taking the hint from Apple that this approach is working, and has been for several years.
Illustrative or hand-drawn effects : An increasing number of companies are turning toward a more hand-drawn or hand-written look, finding beauty in the rustic imperfection of something handmade. S Top Web Design Trends for 2012 « Mindgruve: The Feed – Digital Marketing Agency: San Diego, Orange County, Los Angeles. With 2012 fast approaching, it's time we took a look at where web design is headed for the coming year.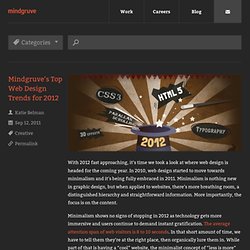 In 2010, web design started to move towards minimalism and it's being fully embraced in 2011. Minimalism is nothing new in graphic design, but when applied to websites, there's more breathing room, a distinguished hierarchy and straightforward information. Web Trends for 2011 - Spark Logix Studio. Clear and simple functionality. We demand more but we don't want it overcomplicated. 2011 design trends will see an increase in the simple conceptual design with a splash of deep and code happy features and a much needed departure from the overuse of flash.
Captivating User Detail. Ridiculous Rules Books. Marcel Ceuppens Digital Paintings. Web Design Trends 2011. Jun 06, 2011 Websites are no longer just about static pages that look good when you click over to them. It's important to apply the right design for the right purpose. It's not the size of the boat, it's the motion of the ocean, right?
Use aesthetics wisely and be responsive to your audience. It's not just for show. Color Trends + Palettes. Learning from game design: 11 gambits for influencing user behaviour | Design with Intent. Games are great at engaging people for long periods of time, getting them involved, and, if we put it bluntly, influencing people's behaviour through their very design. Something conspicuously missing from Design with Intent v.0.9 is a satisfactory treatment of the kinds of techniques for influencing user behaviour that can be derived from games and other 'playful' interactions. I hope to remedy this in DwI 1.0, so here's a preview of the eleven patterns I've included in the new Ludic Lens on behaviour change: patterns drawn from games or modelled on more playful forms of influencing behaviour.
These aren't original, by any means. People such as Amy Jo Kim (see her great presentation 'Putting the fun in functional'), Sebastian Deterding, Francisco Inchauste, Jeremy Keith, Geke Ludden, and of course Ian Bogost have done work which explores this area from lots of different angles, and it also draws on decades of research in social psychology. Get Colorful with Your QR Codes. You've probably noticed them popping up everywhere recently: the seemingly cryptic black-on-white square made up of lines and boxes known as QR Codes.
When scanned with a smartphone, these codes can provide users with a host of goodies: most often web pages, but also videos, search engine results, text messages, tweets, geo-specific maps and more. But your QR Codes don't need to live in a boring, monochromatic world! At the recent Graph Expo show in Chicago, we used QR codes in color (PANTONE 144 PC, to be exact) around our booth and in collateral to offer attendees more information and the chance to win an iPad 2. The codes are flexible enough to even allow designs within the code itself, providing new opportunities for presenting branding and engaging the audience. | Paper Leaf Design | Edmonton Graphic Design, Edmonton Web Design.
Understanding design's return on investment. In 2009, respondents to the European Commission's public consultation on 'design as a driver of user-centred innovation' were asked about the most serious barriers to the better use of design in Europe. The most significant obstacle was considered the 'lack of awareness and understanding of the potential of design among policy-makers' (78%). The second most important barrier was considered the 'lack of knowledge and tools to evaluate the rate of return on design investment' (64%).
With regards to the first barrier, design is increasingly being recognised as a tool for innovation across policy levels in Europe, and in October 2010, the European Commission included design as a priority in its new 'Innovation Union' strategy. Imprint-The Online Community for Graphic Designers — Expanding the Design Conversation. A Question of Materials. Infographic: Designers, Should You Work for Free? | Co. Design. The design process of Jolena. Freedom of Creation | PechaKucha Presentations. Designing Obama | PechaKucha Presentations.
---