Graphic Design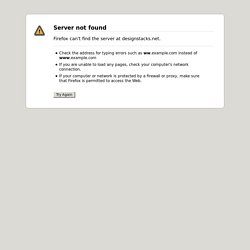 Loot Your Money Back With Lootback The resources you need to successfully run a web design business are usually not expensive but when you total them up the sum may turn … How to create Vintage New Year Card with Chr ...
Which Links in Your Email Marketing Get the Most Clicks?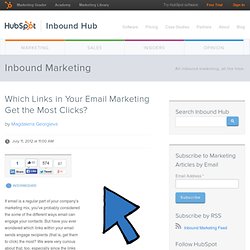 If email is a regular part of your company's marketing mix, you've probably considered the some of the different ways email can engage your contacts. But have you ever wondered which links within your email sends engage recipients (that is, get them to click) the most? We were very curious about that, too, especially since the links within your email are critical for driving action -- and conversion -- from your email marketing .
A Carefully Selected List of Recommended Tools on Datavisualization
When I meet with people and talk about our work, I get asked a lot what technology we use to create interactive and dynamic data visualizations. At Interactive Things, we have a set of preferred libraries, applications and services that we use regularly in our work. We will select the most fitting tool for the job depending on the requirements of the project. Sometimes a really simple tool is all you need to create something meaningful. On other occasions, a more multifaceted repertoire is needed. But how does one choose the right thing to use?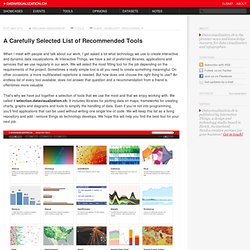 OKCon 2013 29 Aug 2013 Events Conference On September 16th to 18th, Geneva will host OKCon 2013, the annual Open Knowledge Conference, bringing together representatives from agencies and public administrations, technology activists, civic entrepreneurs and data-driven designers. Read more How We Visualized Meteorite Impacts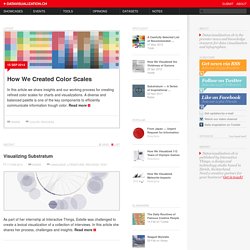 Back in the late 1970s, Dieter Rams was becoming increasingly concerned by the state of the world around him – "an impenetrable confusion of forms, colours and noises." Aware that he was a significant contributor to that world, he asked himself an important question: is my design good design? As good design cannot be measured in a finite way he set about expressing the ten most important principles for what he considered was good design.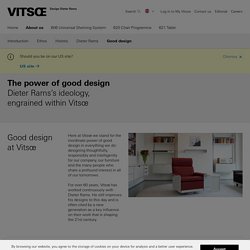 Header re-redesign Laura Moraiti A few new iterations on the mobile navigation, thanks to @Oiseau and @kenil for their input 1.a) Centered logo, with "Top read" and "Search" on the sides as easy access and a 100% width "Menu" button that activates a dropdown.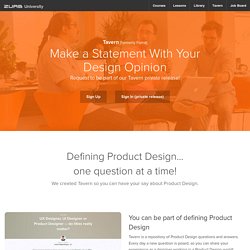 Today I've chosen Free Yellow Paper Notes PSD Download! Paper Notes they are almost everywhere in web. It's a pretty common design element to attract visitors attention.
Design share blog | High-quality Web Design, Graphic Design, Photography, Web Development, Tutorials, Business, Social Media.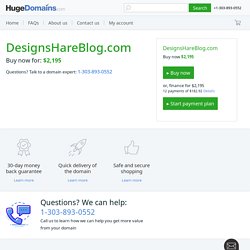 maxmedia
Tutorial: Make a Landing Page Using Generator Designmodo's Generator works with Startup Framework to create an easy drag and drop landing page for almost any website/startup. The two-part video tutorial shows you how easy it is to use Generator and the and share your design as you create in directly in the browser. The tool includes a variety of interchangeable blocks that can be mixed and matched to create a custom... (Re)Adopting the Design-in-Browser Approach I sat down and was going back from drawing a website to actually coding in a browser.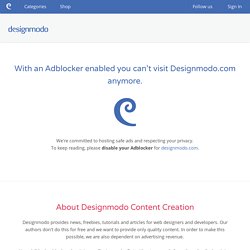 100 Free Fonts You Should Have in Your Library | Cruzine
Total: 57553 Accented (partial): 18492 Accented (full): 2619 Euro symbol: 18534 Russian: 2332 Greek: 12455 Hebrew: 206 Arabic: 569 Chinese: 81 Japanese: 275 Korean: 44 Update overview How to install a font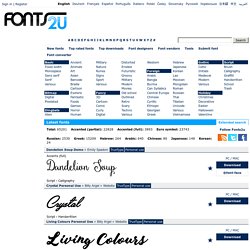 Just like the fashions in clothing change with the seasons, reviving old trends and reinventing current ones, graphic design has to breathe innovation, if designers want to stay ahead of their game. Trends in this case are like waves that come and go and surge again. It is not so easy to identify them right away, and not everything is for everybody: just like with clothes, you have to find your perfect fit. Color Trends
Hottest Print & Web Design Trends 2011-2012
Infographics Help Decision-Making Process
Filed under: All Infographics , Business Infographics | 2 Comments » Infographics Help Decision-Making Process Reviewed by Infographics Guy on Apr 1 Rating: Okay, a little self-promotion here. Why use an infographic? Because they provide a moment of visual stimulation (even if we are over stimulated), allowing our more creative thoughts to open new pathways of thought and increasing our consciousness and self-awareness.
The Best Of 2011: Trendy Web Designs From Deviantart
Year 2011 is rolling forward swiftly and the middle of summer is nearly here. Some of you might unwittingly note that the end of the summer is inevitable while for others that remaining month and half is enough to fully enjoy the benefits that summer offers. Here in the virtual world the time is running even faster and we can already see some of the changes this year has brought to us. Imperceptibly and subtly yet compelling the new web design trends are conquering the scene. Because of the immense traffic and user count Deviantart can definitely be considered to be a trendsetter.
When an artist takes pen to paper, or the modern equivalent of mouse to computer screen, that artist may or may not know exactly what is going to appear on that blank page. Sometimes a careless squiggle results in a literal stroke of brilliance. At others, it is all that artist can do to keep from crumbling up that paper, or worse, tossing that offending computer screen out the window. 2011 had its share of logo genius. Below are just a few of the best. Continue reading
Bedesignful | Graphic Design Trends, Inspiration & Recommendations for Graphic Designers
Trend spotter's guide to 2011
It's always interesting to speak to the experts and find out what they think the creative industry trends of the next 12 months will be: what will drive them, what will influence them and how they will affect you, your work and your clients. To this end, we've gathered together a number of creative specialists working across illustration, design, motion graphics, animation, web, interactive and mobile design to see what they think you should be looking out for in the coming months, and how best to take advantage of the emerging trends, styles and new technologies. Whether it's indie publishing for the iPad, the rise of a stripped-back design aesthetic, or the boom in glossy 3D motion graphics, read on to see how 2011's trends will affect your creative world.
5 Graphic Design Trends With Staying Power
Home » Design » 5 Graphic Design Trends With Staying Power One of the exciting things about the graphic design industry is that it's so creatively diverse and constantly evolving. It can also be frustrating when trying to find a balance between personal artistic vision and the graphic design trends that are going to help clients to stand out and get more business through their visual branding. To help inspire and find that perfect combination of creative and lucrative, here are 5 graphic design trends continuing to make headway in 2011 that look like they'll be sticking around for awhile. Minimalistic and clean : Designers everywhere are taking the hint from Apple that this approach is working, and has been for several years. Illustrative or hand-drawn effects : An increasing number of companies are turning toward a more hand-drawn or hand-written look, finding beauty in the rustic imperfection of something handmade.
s Top Web Design Trends for 2012 « Mindgruve: The Feed – Digital Marketing Agency: San Diego, Orange County, Los Angeles
Web Trends for 2011 - Spark Logix Studio
Ridiculous Rules Books
Marcel Ceuppens Digital Paintings
Web Design Trends 2011
Learning from game design: 11 gambits for influencing user behaviour | Design with Intent
Get Colorful with Your QR Codes
Understanding design's return on investment
A Question of Materials
Infographic: Designers, Should You Work for Free? | Co. Design
The design process of Jolena
Freedom of Creation | PechaKucha Presentations
Designing Obama | PechaKucha Presentations