Movies
Strawberry Anarchy's Unique and Quirky Film List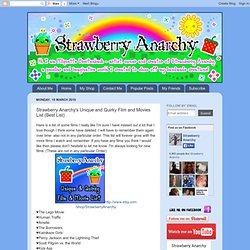 Here is a list of some films I really like I'm sure I have missed out a lot that I love though I think some have deleted. I will have to remember them again over time- also not in any particular order. This list will forever grow with the more films I watch and remember. If you have any films you think I would like then please don't hesitate to let me know. I'm always looking for new films.
The Spiderwick Chronicles (2008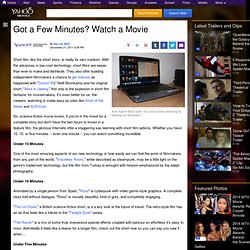 Got a Few Minutes? Watch a Movie
Short film, like the short story, is really its own medium. With the advances in low-cost technology, short films are easier than ever to make and distribute. They also offer budding independent filmmakers a chance to get noticed, as happened with "District 9's" Neill Blomkamp and his original short, "Alive in Joberg."
the story of 1
No Heroics (TV Series 2008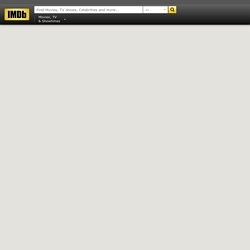 Edit Storyline Earl is a low-life who buys a winning lottery ticket, only to get hit by a car, losing the ticket in the process. He then realizes in the hospital that his bad luck is the result of karma in which fate punishes him for all the rotten things he's ever done in his life; therefore, he then decides to dedicate his life to making amends to all the people he has hurt in his life. Written by B&M Plot Summary | Add Synopsis
My Name Is Earl (TV Series 2005–2009
Watch Being Human Episodes Online
Top Ten: So-Bad-They're-Good Films | Filmophilia
We all know that sometimes certain things can go wrong in the filmmaking process that result in a below-average film and that can make for a bad viewing experience for the audience. Then there are those films that are so bad, so terribly executed by all involved, that they go full circle and become awesome. Be prepared to laugh and cringe in equal measure as you take a look at our Top Ten So Bad-They're-Good Films: #10: Plan 9 From Outer Space A staple on Worst Films lists everywhere, this is a classic for a reason. Directed by "The Worst Director in the World", Ed Wood, the film is a masterclass in how not to make a film.
All Critics (155) | Top Critics (33) | Fresh (139) | Rotten (16) | DVD (9) Attack the Block is essentially an action thriller and as such is effective. Here is a shaggy monster movie that pulls double-duty as a satire of class and ethnic barriers, and how those barriers quickly disappear when we are forced to fight for our simple survival. Attack the Block attacks the alien invasion genre with wit, energy and a cheeky insolence that makes it out of this world. An energetic genre ride with social ambitions about race and class. "Attack the Block" demands to be seen simply because it is a thrill - a pulse-raiser whose perfect construction and pointed wit make it one of the year's most exciting films.
Attack the Block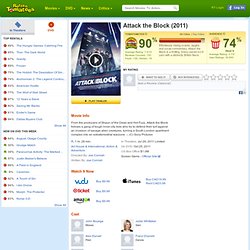 Away We Go (2009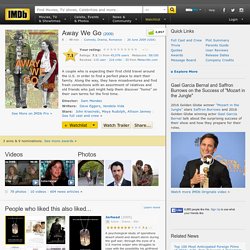 Edit Storyline Burt Farlander and Verona De Tessant are a couple steeped in eccentricity and irregularity but are very much in love. So when they find out that Verona is pregnant they seem to be taking it in their stride. Verona is enjoying pregnancy, Burt is already practicing skill that he believes a good father should have, and they living in the same state as Burt's parents, Jerry and Gloria, so that their prospective daughter can have grandparents.
Party Monster (2003
Persons Unknown (TV Series 2010– 
Mystery Team (2009
Spaced (TV Series 1999–2001
Edit Storyline An unseen man regains consciousness, not knowing who or where he is. No one seems to be able to see him, except the mysterious man dressed in black.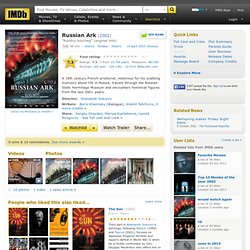 Russian Ark (2002
The Day Today (TV Series 1994
The Point (TV 1971
Top 5 most visually stunning movies
The Top 10 Most Visually Stunning Movies of All Time - Enigma13 Blog
My So-Called Life (TV Series 1994–1995
Better Off Ted (TV Series 2009–2010

Edit Storyline The body of a young girl (Laura Palmer) is washed up on a beach near the small Washington state town of Twin Peaks. FBI Special Agent Dale Cooper is called in to investigate her strange demise only to uncover a web of mystery that ultimately leads him deep into the heart of the surrounding woodland and his very own soul. Written by Douglas Baptie
Twin Peaks (TV Series 1990–1991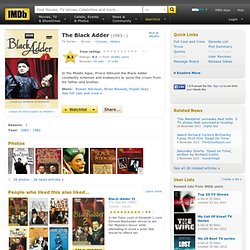 Goofs Blackadder is throughout the series referred to as the Duke of Edinburgh, a title that was first bestowed by King George I in 1726, on his grandson, Prince Frederick Lewis, in the Peerage of Great Britain. Thus, the title didn't exist in the late 1480s. See more » Quotes Opening tune singer: The sound of hoof beats 'cross the glade / Good folk, lock up your son and daughter / Beware the deadly flashing blade / Unless you want to end up shorter / Black Adder, Black Adder, he rides a pitch black steed / Black Adder, Black Adder, he's very bad indeed / Black: his gloves of finest mole / Black: his codpiece made of metal / His horse is blacker than a vole / His pot is blacker than his kettle / Black Adder, Black Adder, with many a cunning plan / Black Adder, Black Adder, you horrid ...
The Black Adder (TV mini-series 1982
Stay Tuned (1992
Being Erica (TV Series 2009
Watch Documentries Online. | Promote Documentary Films. Promote Consciousness. Promote Humanity | Culture Unplugged Online Film Festival
20 Excellent TV Shows to Watch on Netflix Over Thanksgiving
Top Stoner Comedies On Netflix Streaming for 4/20 | missemmamm
After Hours (1985
Winona Ryder
5 Ways Philip K Dick's Insanity Changed the World of Movies
Turning Down the Suck » Eight Ben Stiller Projects That Didn't Suck
The Illusionist (2010
Tideland (2005
The 10th Kingdom (TV mini-series 2000
Mary and Max: Toni Collette, Phillip Seymour Hoffman, Barry Humphries, Eric Bana, Adam Elliot: Movies & TV
Brick (film) - Wikipedia, the free encyclopedia
The Squid and the Whale (2005
Prozac Nation (2001
Persepolis (2007
Igby Goes Down (2002
Manic (2001
Outcasts
Downloading Nancy
FURIOUS FLIX: ENTER THE VOID (2009)
Dogtooth (2009) - Plot Summary
Titus (1999