Funny
Books of Adam. This is my cat.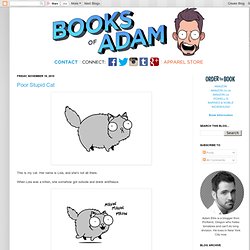 Her name is Lola, and she's not all there. When Lola was a kitten, she somehow got outside and drank antifreeze. She was never quite right after that. I decided to keep her indoors until she was an adult, because I didn't trust her to take care of herself outside. A couple years later, I decided to see if I could expand her horizons beyond the confines of my house.
I just like it
Unrealistic Comic Book Pose of the Day. You just got REICHROLL'D! Funny animal photos of the month (40 photos.
---