Cousera.org
the language of Hollywood
Developing Innovative Ideas for New Companies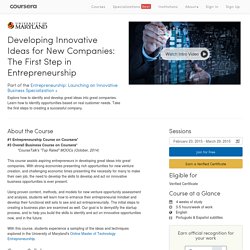 About the Course #1 Entrepreneurship Course on Coursera* #8 Overall Business Course on Coursera*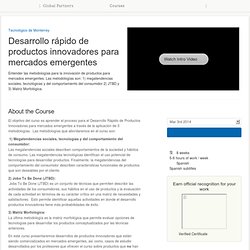 El objetivo del curso es aprender el proceso para el Desarrollo Rápido de Productos Innovadores para mercados emergentes a través de la aplicación de 3 metodologías. Las metodologías que abordaremos en el curso son: 1) Megatendencias sociales, tecnologías y del comportamiento del consumidor: Las megatendencias sociales describen comportamientos de la sociedad y hábitos de consumo. Las megatendencias tecnológicas identifican el uso potencial de tecnologías para desarrollar productos. Finalmente, la megatendencias del comportamiento del consumidor describen características funcionales de productos que son deseables por el cliente. 2) Jobs To Be Done (JTBD): Jobs To Be Done (JTBD) es un conjunto de técnicas que permiten describir las actividades de los consumidores, sus hábitos en el uso de productos y la evaluación de cada actividad en términos de su carácter crítico en una matriz de necesidades y satisfactores.
Desarrollo de productos innovadores Tec Monterrey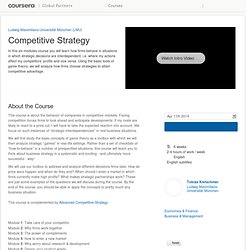 Competitive Strategy Uni MUNICH
This course is about the behavior of companies in competitive markets. Facing competition forces firms to look ahead and anticipate developments: If my rivals are likely to react to a price cut, I will have to take the expected reaction into account. We focus on such instances of "strategic interdependencies" in real business situations.
About the Course En este curso totalmente en español exploraremos qué es y cómo se desarrolla la creatividad. A partir de problemas y retos de diseño estaremos generando ideas, representaciones, productos y servicios. Aplicaremos activamente las diferentes estrategias estudiadas en el curso.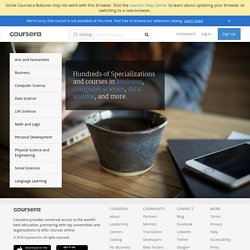 global history since 1760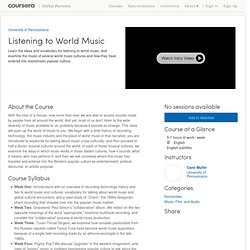 Listening to World Music
About the Course With the click of a mouse, now more than ever we are able to access sounds made by people from all around the world. And yet, most of us don't listen to the wide diversity of music available to us, probably because it sounds so strange.
About the Course This course approaches the questions of "art" and "history" from the perspective of contemporary makers of art (sculpture, painting, photography, performance, installation and more), animators (whether character/story-based or experimental) and gamers, asking how artists actively make a history for their own practices by thinking about the creative process as a "conversation" with a wide range of art from the past. Why are ground-breaking artists so often historically-minded (and yet tend to break all the rules of conventional history-telling)? How do animators themselves "write" the largely unwritten history of their art through quotation, transposition and mash-ups?
history of art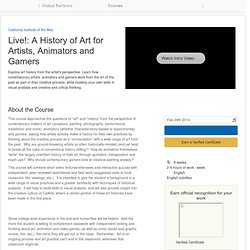 comic books and graphic novels
image and video processing
Intro programming for digital artists
programmation en java