Knitting
Handbags
Shops in Barcelona. How To Make Yarn From A T-Shirt – T-Shirt Yarn Tutorial · Knitting | CraftGossip.com. Apr I've got a bunch of old t-shirts, likely you do too!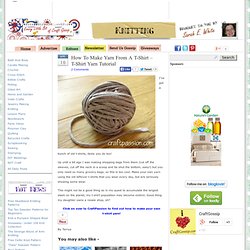 Up until a bit ago I was making shopping bags from them (cut off the sleeves, cut off the neck in a scoop and tie shut the bottom, easy!) But you only need so many grocery bags, so this is too cool. Make your own yarn using the old leftover t-shirts that you wear every day, but are seriously showing some wear. This might not be a good thing as in my quest to accumulate the largest stash on the planet, my t-shirt population may become extinct. Strip Pieced Christmas Stocking - Knitting Crochet Sewing Crafts Patterns and Ideas! This isn't an ultra quick project but it's not as labor intensive as it might seem, and most importantly it will last a lifetime.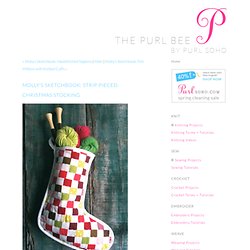 It's is made with our beautiful new Stocking Fat Quarter Bundle, simple white muslin, and thick 100% cotton batting. The patchwork of the stocking is put together in a very cool way by strip piecing. That means you don't have to cut a million little squares and piece them all together one by one. Interweave.
Patrones de Tejido Gratis. Tutoriales para aprender a tejer. Tutoriales de punto gratis para aprender a Tejer Jerseys y Patrones de Punto y un poco de Crochet.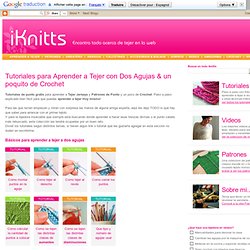 Paso a paso explicado bien fácil para que puedas aprender a tejer Hoy mismo! Para las que recien empiezan y miran con sorpresa las manos de alguna amiga experta, aqui les dejo TODO lo que hay que saber para arrancar con el primer tejido. Videos Tutoriales DROPS. TECHknitting. Includes 13 illustrations, click any illustration to enlarge *For those following along with the 8-trick Pocket Hat KAL, there are no pattern instructions in today's post.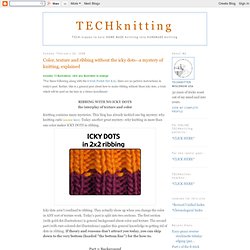 Rather, this is a general post about how to make ribbing without those icky dots, a trick which will be used on the hats in a future installment. RIBBING WITH NO ICKY DOTSthe interplay of texture and color. Knittingfool - Knitting Stitch Patterns - Sweater Pattern Generators.
DROPS Pattern Library: Lace patterns. DROPS pattern library contains patterns, and it keeps growing every day!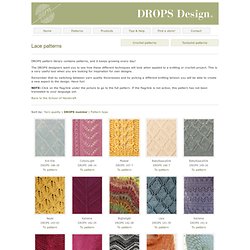 The DROPS designers want you to see how these different techniques will look when applied to a knitting or crochet project. This is a very useful tool when you are looking for inspiration for own designs. Remember that by switching between yarn quality thicknesses and by picking a different knitting tension you will be able to create a new aspect to the design. Have fun! NOTE: Click on the flag/link under the picture to go to the full pattern. Cables. Double Knitting - Knitting Community. Double knitting is the exception to many knitting rules.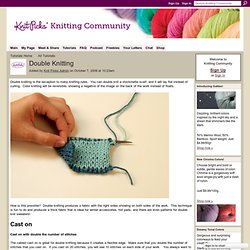 You can double knit a stockinette scarf, and it will lay flat instead of curling. Color knitting will be reversible, showing a negative of the image on the back of the work instead of floats. How is this possible? Knitting Abbreviations Glossary. This is a comprehensive glossary of common knitting abbreviations that you are likely to find in a pattern.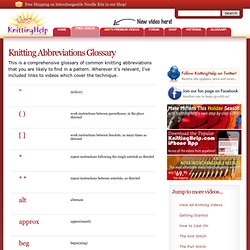 Wherever it's relevant, I've included links to videos which cover the technique. inch(es) Sharfik by Galina Khmeleva | www.habutextiles.com. Bandana Cowl. Working at Purl Soho, I have a front row seat to the parade of effortlessly chic people that give our neighborhood its renowned style.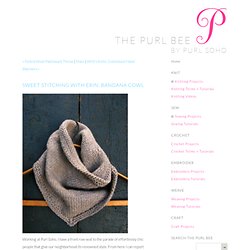 From here I can report that, for men and women alike, this season's prevailing trend in neckwear is the bandana. Jauntily tied around the neck, it tops off everything from Sunday's T-shirt and jeans to Friday's night-on-the-town dress! The bandana is a sassy, casual touch that suggests that the wearer possesses an innate stylishness. It's the perfect accessory for those cool mornings when you've hit snooze a few too many times and need to turn "thrown-together-in-a-rush" into "casually glamourous"!
The knitting squid. Harry Potter Knitting Patterns. Critter Knits. The Dark Knit. A knit and crochet community. Brooklyn Tweed. JF: Welcome, Dianna!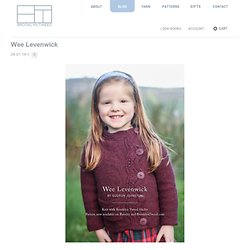 Glad to have you on the blog today! DW: Thanks for having me! JF: Your design work seems heavily inspired by Scandinavian traditions and culture. Can you tell us a little bit about that? Do you have a family history in that region of the world? The Woodstock Blanket. I've never had to think so much before.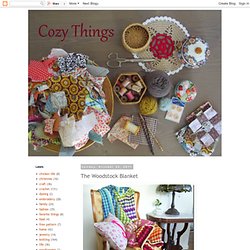 As you know, my usual way is to toss a bunch of yarn into a pile, grab whichever one rolls the closest to where I'm sitting, and just start. You know, whatever happens, happens. This time, I made some rules for myself, and it ended up being kind of a headache. It really happened because of this. The yarn happened to land that way when I dumped it on the table (see? Deerfield Vest.
Patterns - free patterns - cocoknits by julie weisenberger - StumbleUpon. Loading... Please wait... resources.
---