Web Design Tools
45 Incredibly Useful Web Design Checklists and Questionnaires - Smashing Magazine. Advertisement Designing websites can be a long and complicated process.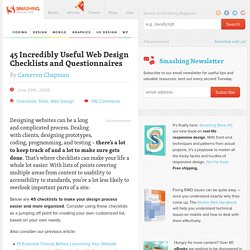 Dealing with clients, designing prototypes, coding, programming, and testing – there's a lot to keep track of and a lot to make sure gets done. That's where checklists can make your life a whole lot easier. With lists of points covering multiple areas from content to usability to accessibility to standards, you're a lot less likely to overlook important parts of a site. Web Design Questionnaires, Project Sheets and Work Sheets - Smashing Magazine. Advertisement It's nearly impossible to provide an accurate quote to a prospective Web design client without first gathering information about what that particular client needs.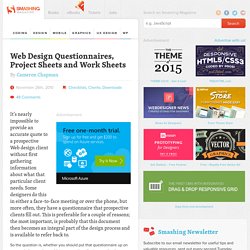 Some designers do this in either a face-to-face meeting or over the phone, but more often, they have a questionnaire that prospective clients fill out. The Anatomy of a Perfect Landing Page. Deborah's Weekly Links: January 21, 2012 - Deborah Edwards-Onoro. AskApache - Crazy Advanced Web Development. Semantic data extractor - QA @ W3C. This tool, geared by an XSLT stylesheet, tries to extract some information from a HTML semantic rich document.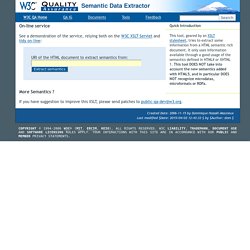 It only uses information available through a good usage of the semantics defined in HTML. The aim is to show that providing a semantically rich HTML gives much more value to your code: using a semantically rich HTML code allows a better use of CSS, makes your HTML intelligible to a wider range of user agents (especially search engines bots). As an aside, it can give clues to user agents developers on some hooks that could be interesting to add in their product. If you have suggestion to improve this XSLT, please send patches to public-qa-dev@w3.org.
---