Social Media / Curation & Content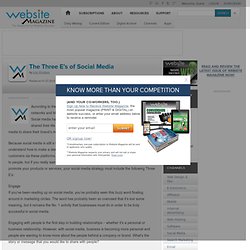 The Three E's of Social Media - Daily 'Net Features - Website Magazine
According to the Nielsen Company's recent Social Media Report, social networks and blogs reach nearly 80 percent of active internet users in the U.S. Social media has not only become a medium by which many people have shared their life stories, but more and more businesses are also using social media to share their brand's message. Because social media is still a fairly new medium of marketing, businesses have yet to fully understand how to make a deeper, more personal connection with customers or potential customers via these platforms. It's easy enough to post company news and blast special deals to people, but if you really want to build a powerful community of people who will happily promote your products or services, your social media strategy must include the following Three E's:
Digital media has emboldened many brands to consider themselves publishers. After all, American Express has credibility on financial matters and Coke has a network 36 million Facebook fans. Who needs publishers to serve as intermediaries?
Brands Want Content Curator Jobs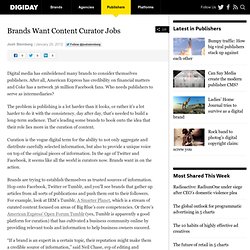 If we put a number on it, people will try to make the number go up. Now that everyone is a marketer, many people are looking for a louder megaphone, a chance to talk about their work, their career, their product... and social media looks like the ideal soapbox, a free opportunity to shout to the masses. But first, we're told to make that number go up.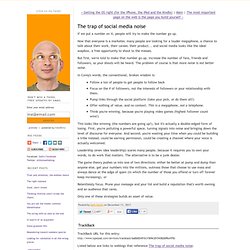 The trap of social media noise
Introducing Google Currents
IBM's content curation has supercharged its intranet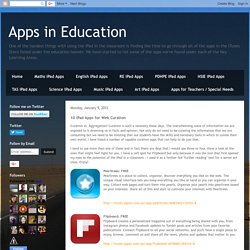 Curation vs. Aggregation? Curation is such a necessity these days. The overwhelming wave of information we are exposed to is drowning us in facts and opinion. Not only do we need to be curating the information that we are consuming but we need to be insisting that our students have the skills and necessary tools in which to curate their own world.
Social Media Learning Lab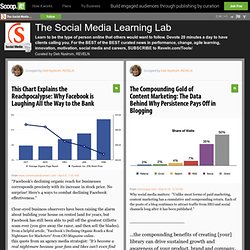 If you are marketing on social media and you should be you are probably making some of these mistakes. Here's how to fix them from Gary Vaynerchuk, best selling author. Excerpted: ...[don't] post essays on Instagram. ...the best social content is "native" to each platform...speaks the right language in the right place. ...blend your message into each platform's unique style. ...Tumblr "attracts the artsy crowd and supports animated GIFs," whereas Twitter "speaks to an ironic, urban audience."