self-sufficiency is sexy
Get flash to fully experience Pearltrees
We love using chalkboards as backdrops for displays and parties (like this one here !). So we were super excited to learn that you can create your own custom colors-and it's really easy! We first learned how from Martha Stewart whose tutorial you can read here . She recommends that you use latex paint, but we tried it out with acrylic paints with much success.
first image full view of the mobile homeless shelter design enthusiast, paul elkins , develops mobile units, and other small scale vehicles. he previously designed the burning man bicycle camper and his latest development is a mobile homeless shelter which he designed as part of a competition asking individuals to meet the demands of the rapidly growing homeless society - a kind of substitute for the grocery cart situation. elkins wanted his design construction to be a simple, light weight, water tight insulated box on wheels, built with an area for displaying and selling handmade wares. construction of the mobile homeless shelter
I've always loved taking everyday items and making them into something interesting. Ever since I was a little crafty kid I loved devouring books that taught me how to make little dolls from clothespins, beads from rolled up magazines, and little fairy ornaments from wire and fake flower petals. The first time I saw my friend wearing a bracelet made from a fork a few years ago, I knew I had to try it (*ahem Carly ;)).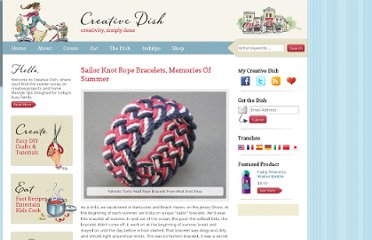 Patriotic Turks Head Rope Bracelet From What Knot Shop As a child, we vacationed in Nantucket and Beach Haven, on the Jersey Shore. At the beginning of each summer, we'd slip on a rope "sailor" bracelet.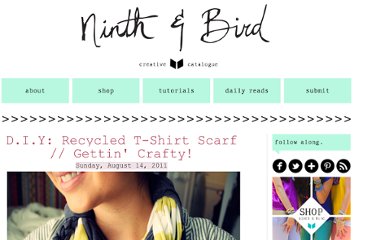 D.I.Y: Recycled T-Shirt Scarf 1} Gather a few old t-shirts you don't wear anymore; thrift them or buy new -- but choose thin, soft (preferably worn out) t-shirts. Find two t-shirts of different colors that go well together.
Have you ever made play dough and it just fell apart?? Well… not this time. This recipe will make play dough that is seriously the closest thing to store-bought you'll ever make. No falling apart or drying out (as long as stored in a sealed container). It will last up to 6 months. The secret to this recipe??
We're so excited to share this adorable dress makeover today! Kinsey's design is super pretty and you don't need a sewing machine to try this project. I can't wait to add this pretty detail to one of my dresses too!
Today we want to show you how to make some super cute color blocked booties. Emma and I had some short boots, but we wanted to add something to make them more interesting. We painted these in an afternoon. Mine are brown with black and hers are black with gold... Here's what we did... 1. Find a pair of boots that you like. 2.
This little ringlet scarf made out of old t-shirts is so fun for fall! There's no sewing involved (hallelujah!), and you can make it while sitting in front of the TV in less time than it takes to watch a really good, trashy show on E. Since I have an abundance of orange and blue Auburn shirts (and we go to a lot of the crisp, fall football games) I decided to go with Auburn colors.
I know I talked hair last week BUT I just have to share this with you! Being a straight and rather flat haired girl myself, I have tried every which way to bring a little bit of curl into my life with limited success. I've bought heated round brushes, velcro rollers, curling tongs in various shapes and sizes, those foam bendy things, rags (Victorian chic don't you know) and heated rollers. But none have given me the curls I crave and most of them have damaged my hair. But, the other day, I was indulging in a little pinning on Pinterest .