Soap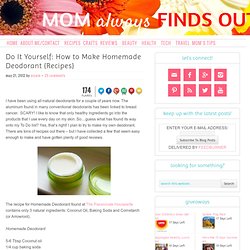 I have been using all-natural deodorants for a couple of years now. The aluminum found in many conventional deodorants has been linked to breast cancer. SCARY! I like to know that only healthy ingredients go into the products that I use every day on my skin. So…guess what has found its way onto my To Do list?
diy deo
Grandpappy's Homemade Soap Recipe Copyright © 2007,2008 by Robert Wayne Atkins, P.E. All rights reserved and all rights protected under international copyright law. Click Here for a Microsoft WORD printer friendly copy of this article. Introduction
Pantry Soap
Eye make-up remover is so darn expensive! Here is a quick and cheap DIY Eye Make-up Remover recipe. If you have kids, you'll have the materials!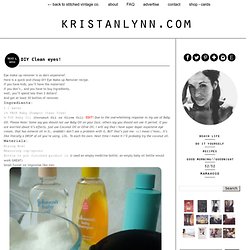 Dec19 by Brenda Ponnay Stuff their stockings with something they can wash their hands with!By Brenda Ponnay What's cuter than a button, small enough to fit in a stocking, won't rot your teeth and leaves you squeaky clean? A mini snow-globe soap, of course!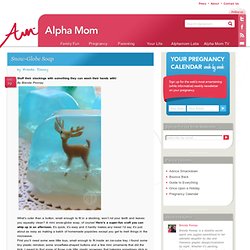 Learn to make some pretty single-use soaps for your guests! You Will Need:
Single-Use Flower Petal Soaps