Alc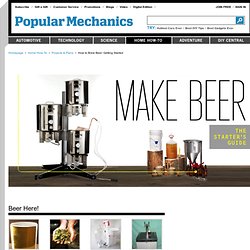 Serious about making large batches of beer? Splurge for a propane-powered rig with a three-tiered brew stand. This setup, by Indiana-based Blichmann Engineering, costs about $2000 and features a trio of 20- to 30-gallon pots and gas burners that put out 216,000 Btu per hour. (The high heat quickly boils large amounts of liquid, shaving hours off the brewing process.) More casual or budget brewers can make do with one big pot, heated on a common kitchen stove.
How to Brew Beer - Home Brewing Getting Started - Popular Mechanics - StumbleUpon
Old-Fashion Homemade Fruit Wine
Let yeast sit in warm water. Add all other ingredients into a container that will hold at least 2 gallons. Make sure sugar is dissolved completely. Add yeast and stir. Cover container with a bag and string or use an airlock for wine making. In about 2 months you will have some fine homemade wine.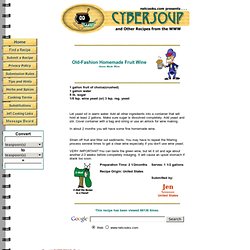 Photo: Michelle Oddis Once in a while, a party trick comes along that grabs our attention. Food blogger Michelle Oddis of That's So Michelle loves making caramel apple shots we can't imagine anyone would turn down.
Caramel Apple Shots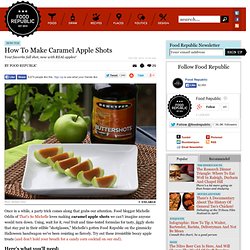 Skittles Vodka Tutorial
Infusing vodka with Skittles is a very popular trend right now. There are a couple of different ways to do it. My way involves separating all the Skittles into their separate flavors and making five different bottles of Skittles vodka.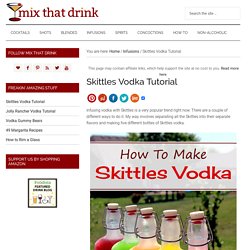 Ridiculous mixed drinks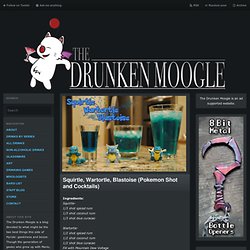 Squirtle, Wartortle, Blastoise (Pokemon Shot and Cocktails) Ingredients: Squirtle-1/3 shot spiced rum1/3 shot coconut rum1/3 shot blue curacao Wartortle-1/2 shot spiced rum1/2 shot coconut rum1/2 shot blue curacaoFill with Mountain Dew Voltage
Homemade Liqueurs
Since I'm going to have the house to myself this weekend I'm thinking about having some fun in the kitchen. I've been looking around on Pinterest for some yummy recipes to play with. The possibilities are endless !
Thirsty Thursday
Homebrewing 101