Casa
Get flash to fully experience Pearltrees
Acepta el desafío y el compromiso de basar tu trabajo en cuidar nuestro planeta. Recupera lo que para otros son residuos y transfórmalos. Reciclar es una forma de vida y tú puedes aportar el diseño y la creatividad. Más información a continuación … (más…) Simple y original luminaria colgante creada por el diseñador Kazuhiro Yamanaka . Consta de tres sencillos componentes; un palillo de ropa, un trozo de papel y una bombilla.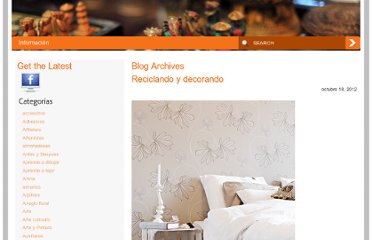 © 2012 Autodesk, Inc. All rights reserved. Use of the service is subject to the Homestyler Terms of Use . Trademarks
Beginner Assorted dry twigs or driftwood; garden snips; green spray paint; hot-glue gun; flea-market mirror. 1} Cut twigs or driftwood into 3- to 5-inch pieces, depending upon size of mirror. 2} Place wood on newspaper; apply several light coats of paint, letting them dry and turning them over after each coat. 3} Glue twigs to mirror, starting about 2 inches from outer edge (if mirror has frame, be sure to cover frame); apply twigs in overlapping layers as you work toward outer edge. Let dry.
You all know we love a good Anthropologie knockoff around here – so a couple of days ago when I was browsing online I came across this mirror. Oh I definitely need that. Hold the presses – did that say $498??? Huh. We can do better than that. :)
The server encountered an internal error or misconfiguration and was unable to complete your request. Please contact the server administrator, webmaster@inspiringpretty.com and inform them of the time the error occurred, and anything you might have done that may have caused the error. More information about this error may be available in the server error log.
I love the way the cherry trees outside my building bloom cheerfully each Spring. I wanted to bring the beauty of those cherry blossoms indoors so I made some out of tissue paper and to make them even more special I added LEDs These pretty lights are inexpensive and easy to make.
Liquid to Light Designer Ed Chew takes a green step in the right direction with the TetraBox lamp, a light object made from discarded drink packets that would have otherwise ended up in landfills already packed to the brim. The design is achieved by unfolding the packets and refolding them into hexagonal and pentagonal sections that are then pieced together to form a geodesic sphere or any other desired shape. Here, the Epcot-like ball makes an attractive overhead light and casts an impressive web of shadows and shapes on the surrounding space. Designer: Ed Chew