Contest&Submissions
Writing Contests, Contest List, Directory | Competitions, Get Published | Contests For Writers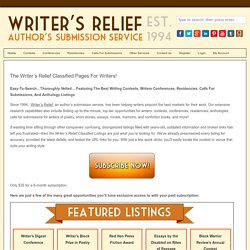 Learn more about Writer's Relief, an author's submission service. Want a listing in our classifieds section?
Publishers are invited to submit their anthologies or short story collections to editors Halli Villegas and Sandra Kasturi in hard copy or by PDF. If the work is from a collection or anthology, it must have appeared there for the first time.
Submissions -
Already have a CreateSpace account? Sign in here Key 2013 Dates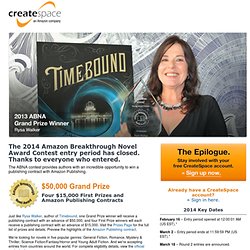 Amazon Breakthrough Novel Award Contest
Amazon Breakthrough Novel Award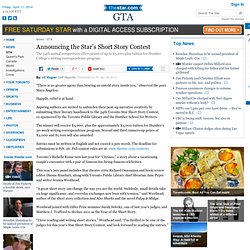 Toronto News: Announcing the Star's Short Story Contest
"There is no greater agony than bearing an untold story inside you," observed the poet Maya Angelou.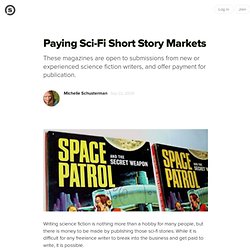 Paying Sci-Fi Short Story Markets: Websites That Pay to Publish Science Fiction | Suite101.com
Writing science fiction is nothing more than a hobby for many people, but there is money to be made by publishing those sci-fi stories.
SCBWI MALAYSIA - Welcome!
Call for Submissions : Readings From Readings 2
Submission Guidelines : Escape Pod
Edited November 12, 2012 Escape Pod is always looking for fun quality science fiction to feed our listeners. If you're a writer with a speculative short story that you'd like to hear narrated by a very talented performers, we'd like to see it.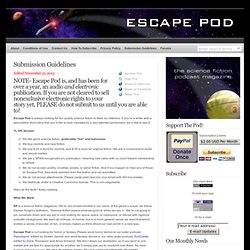 Extreme Planets - DAVID CONYERS / science fiction author
Writer's Digest Annual Writing Competition | WritersDigest.com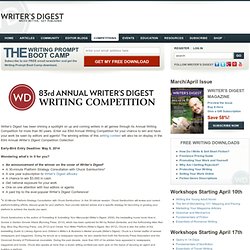 Writer's Digest has been shining a spotlight on up and coming writers in all genres through its Annual Writing Competition for more than 80 years. Enter our 83rd Annual Writing Competition for your chance to win and have your work be seen by editors and agents!
Prizes
Paying market, Chicken Soup for the Soul: Cats, payment: $200 per story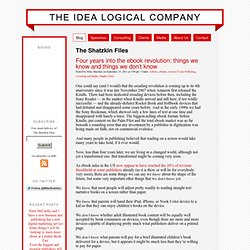 Four years into the ebook revolution: things we know and things we don't know
One could say (and I would) that the ereading revolution is coming up to its 4th anniversary since it was late November 2007 when Amazon first released the Kindle.
Cha - Call for Submissions - Issue #16 (February 2012)
DEADLINE: 15 December, 2011. Midnight, wherever you are.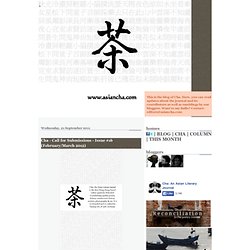 Eastern Heathens
Here's our list of fairy tales, fables, ghost stories, myths, legends, and sacred tales, classified according to land of origin. Many of the stories are available online; others can be found in folktale collections in libraries. Feel free to use these, or any of your own choice outside of this list.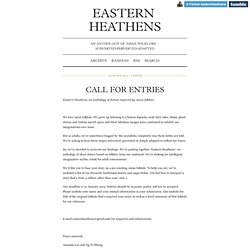 Prix Aurora Awards |
Books - Canada Writes
Photo by Richard Dorrell [CC-BY-SA-2.0], via Wikimedia Commons If you're like me and you have far more New Year's resolutions concerning writing and publishing than you do dieting, exercising or socializing, here's something you may be interested in—a writing prompt, and a chance to have your fiction published in Writer's Digest magazine.
Short Short Story
Submit an entry | Commonwealth Writers
Submit your contest for possible posting.
Writing Contests
2012 International Literary Awards Guidelines — Salem College
Project Short Story Competition
SYBHEL Short Story Competition – Free E-Book of Short Listed Stories
The following are the official contest entry rules for the 2014 Friends of Merril Short Story Contest.
Contest Rules | The Friends of the Merril Short Story Contest