Berlin
Berlin. Berlin à Vélo - Berlin. Berlin est tissée de pistes cyclables alors pourquoi ne pas se mettre à la couleur locale et adopter ce mode de déplacement écologique, pratique et pas cher ?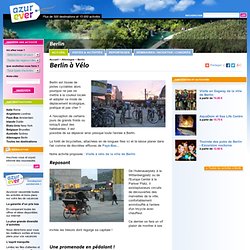 A l'exception de certains jours de grands froids ou lorsqu'il pleut des hallebardes, il est possible de se déplacer ainsi presque toute l'année à Berlin. La forêt de bicyclettes, attachées en de longues files ici et là laisse planer dans l'air comme de discrètes effluves de Pays-Bas... Clubs. The definitive city guide for the mobile generation | berlin.unlike. Quirky, softly-lit bars are to Neukölln what kid-friendly Bio-Cafes are to Prenzlauer Berg.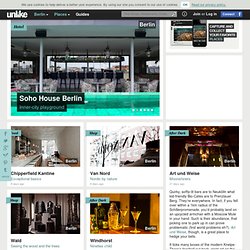 They're everywhere. In fact, if you fell over within a 1km radius of the Schillerpromenade, you'd probably land on an upcycled armchair with a Moscow Mule in your hand. Such is their abundance, that picking one to park up in can prove problematic (first world problems eh?). Durch Berlin. A Berlin. Un guide de Berlin et un Blog. Berlin :: Guide de voyage Berlin. « Berlin est pauvre mais sexy !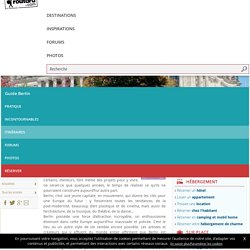 », c'est son maire Klaus Wowereit qui l'affirme... et cette formule a fait depuis le tour du monde. De quoi rendre la ville encore plus attractive aux yeux des 10 millions de visiteurs qui, chaque année, ne viennent plus seulement en pèlerinage sur les lieux emblématiques de l'Histoire mais veulent découvrir la ville la plus en vogue, la plus branchée du continent. Berlin : un album. Happy Berlin - Street Art | ☁ HAPPY CITY ☁
---