Arts
Glennz Tees - Funny Original T-Shirts. Draw a Stickman. 'the wooden mirror' by daniel rozin. The Bizarre And Extraordinary Art Of Mike Mitchell. Smashing Picture. L-O-V-E Makes The World Go W-E-I-R-D (11 Photos) Posted by C on Monday, October 17, 2011 · I found these funny illustrations in the net yesterday.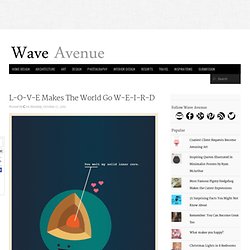 The article was actually entitled, "Nerdy Dirty Illustrations for Nerds In Love." Draw a Stickman. PencilMadness. Recycle pizza boxes into wall art. Art for pizza lovers!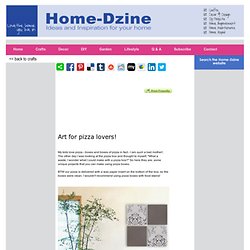 BTW our pizza is delivered with a wax paper insert on the bottom of the box, so the boxes were clean. I wouldn't recommend using pizza boxes with food stains! I already had this idea in mind, but was going to use polystyrene blocks. But why buy polystyrene when I can recycle pizza boxes and create art for my home, and for the kids' rooms as well. ABOVE: Use larger pizza boxes to make unique art for a child's bedroom.
Booze it Up! 13 Rad Recycled Bottle Crafts & Projects. Got a recycling bin full of glass bottles?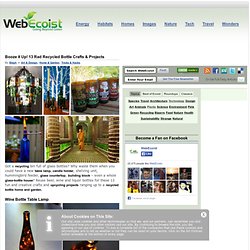 Why waste them when you could have a new table lamp, candle holder, shelving unit, hummingbird feeder, glass countertop, building block – even a whole glass-bottle house? Reuse beer, wine and liquor bottles for these 13 fun and creative crafts and upcycling projects ranging up to a recycled bottle home and garden. Wine Bottle Table Lamp (images via: wit and whistle) Turning any wine bottle into a table lamp is as simple as drilling a hole and inserting a strand of lights. Most Amazing Sand Sculptures. Most Amazing Sand Sculptures 36 Comments: rachael said...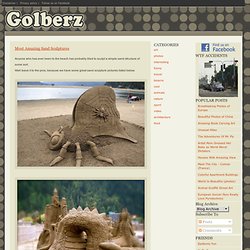 I've tried making sandcastles before.. I suck. April 16, 2010 at 11:59 AM. Best wallpapers. 106 of the most beloved Street Art Photos - Year 2010 | STREET ART UTOPIA.
---