Banh
S Mooncake Guide 2013 (PLUS GIVEAWAY) Legend tells of a myth that in the old days, there were ten suns revolving and taking turns to illuminate the earth.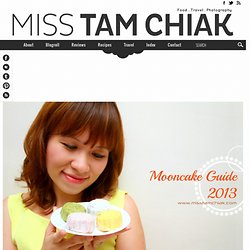 One day, the suns suddenly began to shine all at once. This made life on earth unbearable and almost everything was scorched and burnt. Hou Yi, a skilled archer, saved the world by shooting down nine of the ten suns. Choux Creme | Choux Creme. Risa Chocolates. Bliss. Disguised as bread. - Crazy Good Bread Co. KARAMELLERIET |Karamelleriet Håndlavede karameller.
Cakes | Wedding Gift | Corporate Gifts | Promotional Cakes. Tablier de Bi | Bring your sweet tooth a soulmate! Fudge Kitchen - Buy Fudge Online. Beurre & Sel. Our Story. Whether they're sweet cookies baked in our signature rings or savory cookies from our Cocktail Collection, all of our cookies are made just as Dorie has made them for decades in her narrow New York City kitchen using local butter and hand-harvested French sea salt … the butter and salt that give Beurre & Sel its name and its goodness.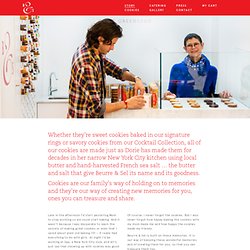 Cookies are our family's way of holding on to memories and they're our way of creating new memories for you, ones you can treasure and share. Late in the afternoon I'd start pestering Mom to stop working so we could start baking. And it wasn't because I was desperate to learn the secrets of making great cookies or even that I cared about plain old baking 101 – it really had everything to do with girls.
Nguyen lieu, dung cu lam banh | cac khoa hoc lam banh Bakerland. DiBella Baking Company, Inc. Früute - gift unordinary | gift baskets for a new generation of gift givers. Maison Dandoy. Gilt Taste. Whoopsies! | Produzione dolci, biscotti, cialde cannoli - Cannolificio Mongibello - Belpasso, Catania, Sicilia - Cannoli, chiacchiere, bign , biscotti. Bánh mì Việt. L'Albero del Pane. Bếp Rùa ♥ Hơi ấm gia đình tỏa ra từ gian bếp nhỏ.
Löffle mich - Das Kuchenglück im Glas. CANASUC. Belle de Sucre Store - John Lewis. Baking & Dessert Recipes & Videos - Joyofbaking.com *Tested Recipes* Savoury Days | Nấu, Ăn, Học, Đi, Chụp, Nghĩ, Viết. Liddabit Sweets. Brix Chocolate - Home. Waitrose - Online Grocery Shopping | Free Delivery | Recipes | Wine | Party Food. Biscuiteers | delicious hand iced biccies to order on line – say it with icing. Gü Puds. 舊振南餅店.
---