Snacks
Cinnamon Roasted Almonds. Cinnamon Roasted Almonds Crunchy, cinnamon glazed almonds are an amazingly delicious treat to bring to a party or gathering.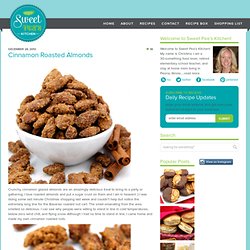 I love roasted almonds and put a sugar crust on them and I am in heaven! :) I was doing some last minute Christmas shopping last week and couldn't help but notice the extremely long line for the Bavarian roasted nut cart. The smell emanating from the area smelled so delicious. Goldfish Crackers Made From Scratch. Goldfish crackers seem to be present wherever toddlers are found.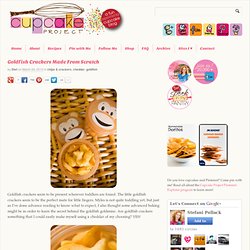 The little goldfish crackers seem to be the perfect mate for little fingers. Myles is not quite toddling yet, but just as I've done advance reading to know what to expect, I also thought some advanced baking might be in order to learn the secret behind the goldfish goldmine. "Homemade Gift Idea: Cranberry Chews" — The Official Site of Chef Georgia Pellegrini | Food, Travel, Lifestyle, Hunting and Redefining Slow Food. I'm at Bakerella's book signing in Austin!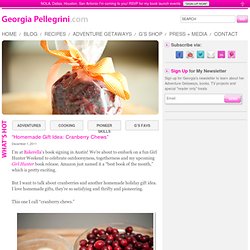 We're about to embark on a fun Girl Hunter Weekend to celebrate outdoorsyness, togetherness and my upcoming Girl Hunter book release. Amazon just named it a "best book of the month," which is pretty exciting. But I want to talk about cranberries and another homemade holiday gift idea. I love homemade gifts, they're so satisfying and thrifty and pioneering. Tortilla Crisps. I Made Popcorn. September 16, 2005 | By Adam Roberts | 12 Comments This is really lame, and I apologize.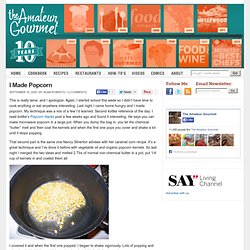 Again, I started school this week so I didn't have time to cook anything or eat anywhere interesting. Last night I came home hungry and I made popcorn. My technique was a mix of a few I'd learned. A $5 Dinner from the Corner Bodega [Homemade Hummus with Homemade Pita] November 12, 2007 | By Adam Roberts | 24 Comments There are moments when I don't want to plan a dinner, but I don't want to order in either.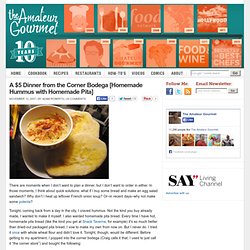 In those moments, I think about quick solutions: what if I buy some bread and make an egg salad sandwich? Why don't I heat up leftover French onion soup? Homemade Cheez-Its | Petite Kitchenesse. I think it's a widely agreed-upon fact that the typical "office-job" environment fosters terrible eating habits.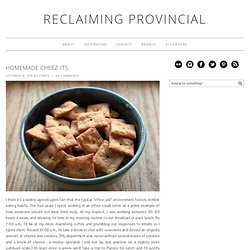 The four years I spent working in an office could serve as a prime example of how someone should not treat their body. At my craziest, I was working between 50–60 hours a week, and allowing no time in my morning routine to eat breakfast or pack lunch. By 7:00 a.m., I'd be at my desk, mainlining coffee and grumbling out responses to emails as I typed them. Around 10:00 a.m., I'd take a break to chat with coworkers and devour an ungodly amount of cheese and crackers. (My department was never without several boxes of crackers and a block of cheese—a modus operandi I still live by, but practice on a slightly more subdued scale.) Candied Almonds. I have had a very tough time with my Christmas shopping this year.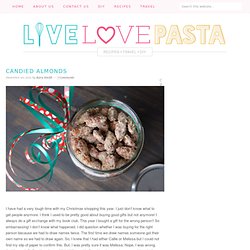 I just don't know what to get people anymore. I think I used to be pretty good about buying good gifts but not anymore! I always do a gift exchange with my book club. This year I bought a gift for the wrong person!! Fruit Rollups. I am not one of those people that eat strictly organic, natural, and whole foods.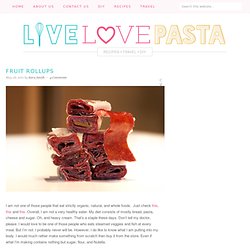 Just check this, this and this. Overall, I am not a very healthy eater. My diet consists of mostly bread, pasta, cheese and sugar. Puppy Chow. You may be asking yourself, "Why is this recipe called Puppy Chow?"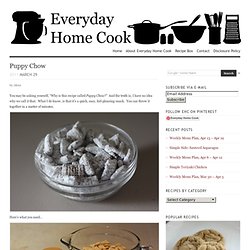 And the truth is, I have no idea why we call it that. What I do know, is that it's a quick, easy, kid-pleasing snack. Homemade Grahams. I got a bug the other day to make homemade graham crackers.
So, I turned to a recipe I've made couple times before. However, I felt like mixing things up a little bit. Awesome Munchies. [ Close Privacy Policy ] Privacy Policy / Your California Privacy Rights Revised and posted as of March 4, 2013 Prime Publishing, LLC and Ginsburg Enterprises Incorporated ("Company," "we" or "us") reserves the right to revise this Privacy Policy at any time simply by posting such revision, so we encourage you to review it periodically. In order to track any changes to this Privacy Policy, we will include a historical reference at the top of this document. This Privacy Policy will tell you, among other things: Baked Cinnamon Chips. Aloha! It's good to be back! Thanks to Kate for holding down the fort without me. She and I are spoiled having two people to share the blogging load with, so when one of us is MIA it's a lot of work for the other- thanks girl!
So guess what? Today is my birthday. How To: Make Homemade Potato Chips. I promised some of you on Facebook a cool science trick to impress the kiddos today, but I'm changing my mind after making a batch of fresh potato chips and realizing while munching that I've never written about them here. And that's a crying shame. I've mentioned before that I don't fry a lot at home; it's a once-and-a-while kind of thing at our house, so when we do it's especially good.
Homemade Animal Crackers. A funny thing happened on Monday night. As we were climbing into bed, Mr. How Sweet was detailing his intense craving for sweets. He was begging for cookies and brownies and cake, none of which we had. Homemade Fruit Leather. 2011 has been all about stepping outside the box. I've made risotto with fruit, homemade naan, bacon granola bars, chocolate chip cookie dough stuffed cinnamon rolls, plus a slew of other recipes I probably wouldn't have attempted if it wasn't for this site. I even roasted a chicken. And I definitely didn't think I'd ever find myself making homemade fruit leather. But since I would single-handedly devour a 12-pack of fruit roll-ups as a kid, I knew it had to be done. I think my roommate and I even had a 48-pack of fruit roll-ups in college… that lasted a week, maybe?
---