Other desserts
Seven Minute Cinnamon Buns. Warm Brownie Sundaes. [ Close Privacy Policy ] Privacy Policy / Your California Privacy Rights Revised and posted as of March 4, 2013 Prime Publishing, LLC and Ginsburg Enterprises Incorporated ("Company," "we" or "us") reserves the right to revise this Privacy Policy at any time simply by posting such revision, so we encourage you to review it periodically.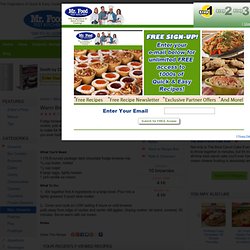 In order to track any changes to this Privacy Policy, we will include a historical reference at the top of this document. This Privacy Policy will tell you, among other things: Your California privacy rights. Baskin-robbins mint chocolate chip shake recipe. Cinnabon Cinnamon Rolls (copycat recipe) | Tammy's Recipes. **See additional notes below for making this dough in a bread machine** 1.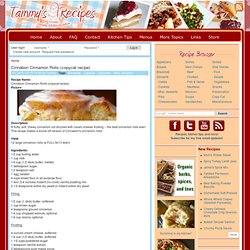 In a large mixing bowl, combine the hot water with the cup of (cold) milk to make a warm milk-water mixture. Add the butter, sugar, salt, egg, and a cup of the flour. Easy Funnel Cakes. [ Close Privacy Policy ] Privacy Policy / Your California Privacy Rights Revised and posted as of March 4, 2013 Prime Publishing, LLC and Ginsburg Enterprises Incorporated ("Company," "we" or "us") reserves the right to revise this Privacy Policy at any time simply by posting such revision, so we encourage you to review it periodically.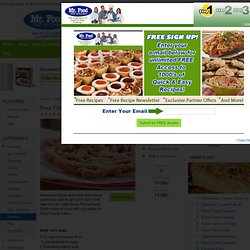 In order to track any changes to this Privacy Policy, we will include a historical reference at the top of this document. This Privacy Policy will tell you, among other things: Your California privacy rights. Lightning Quick Baklava. Penelope's Baklava Recipe. In my family we eat, and we eat a LOT.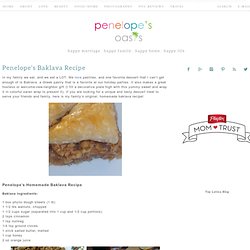 We love pastries, and one favorite dessert that I can't get enough of is Baklava, a Greek pastry that is a favorite at our holiday parties. It also makes a great hostess or welcome-new-neighbor gift (I fill a decorative plate high with this yummy sweet and wrap it in colorful saran wrap to present it). If you are looking for a unique and tasty dessert treat to serve your friends and family, here is my family's original, homemade baklava recipe! Baklava Ingredients: Irish Strawberry Trifle. Peach and Strawberry Cobbler. Easy Tiramisu. June 19, 2007 | By Adam Roberts | 18 Comments Tiramisu is a dessert I've only eaten at restaurants–usually with my family.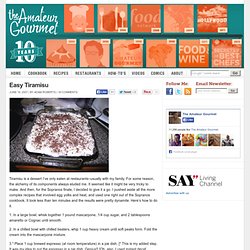 For some reason, the alchemy of its components always eluded me. It seemed like it might be very tricky to make. Chocolate Mousse. May 20, 2009 | By Adam Roberts | 11 Comments There is only one dessert to eat after Coq au Vin and that dessert is chocolate mousse.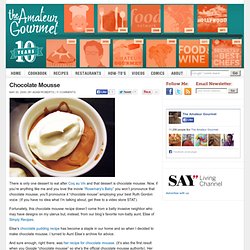 Now, if you're anything like me and you love the movie "Rosemary's Baby" you won't pronounce that chocolate mousse, you'll pronounce it "chocolate mouse" employing your best Ruth Gordon voice. (If you have no idea what I'm talking about, get thee to a video store STAT). Fortunately, this chocolate mousse recipe doesn't come from a batty invasive neighbor who may have designs on my uterus but, instead, from our blog's favorite non-batty aunt, Elise of Simply Recipes. Late Night Lemon Mousse. September 17, 2009 | By Adam Roberts | 15 Comments After a long day on Tuesday of editing a video for Food2.com, I called Craig and told him to order a pizza.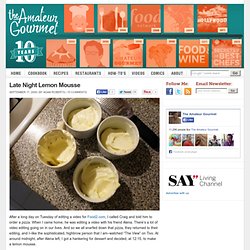 When I came home, he was editing a video with his friend Alena. There's a lot of video editing going on in our lives. And so we all snarfed down that pizza, they returned to their editing, and I–like the sophisticated, highbrow person that I am–watched "The View" on Tivo. At around midnight, after Alena left, I got a hankering for dessert and decided, at 12:15, to make a lemon mousse. Chocolate-Pomegranate Mousse. November 16, 2009 | Print | E-mail | Filed under chocolate, pomegranate With all of those lovely pomegranates around the house that I blogged about last week, I just couldn't resist coming up with some sweet ideas for them.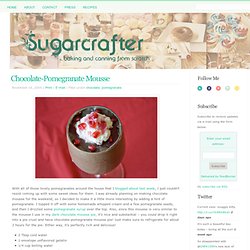 I was already planning on making chocolate mousse for the weekend, so I decided to make it a little more interesting by adding a hint of pomegranate. I topped it off with some homemade whipped cream and a few pomegranate seeds, and then I drizzled some pomegranate syrup over the top. Oreo Dessert. *Disclosure* This blog accepts forms of cash advertising, sponsorship, paid insertions, free products, services, or other forms of compensation.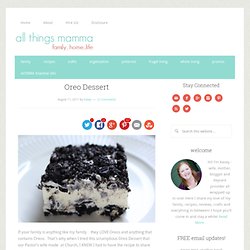 The compensation received will never influence the content, topics or posts made in this blog. The views and opinions expressed on this blog are purely the bloggers' own. Any product claim, statistic, quote or other representation about a product or service should be verified with the manufacturer, provider or party in question. Fresh Apple Crumb Bake. [ Close Privacy Policy ] Privacy Policy / Your California Privacy Rights Revised and posted as of March 4, 2013 Prime Publishing, LLC and Ginsburg Enterprises Incorporated ("Company," "we" or "us") reserves the right to revise this Privacy Policy at any time simply by posting such revision, so we encourage you to review it periodically.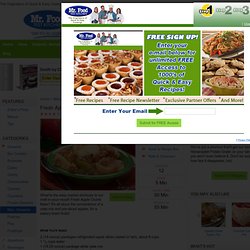 Oreo Truffles. 1. Crush the Oreos (pretty much the whole package, minus a handful, will do) until finely ground. A food processor does the best job, but if you don't have one, throw the cookies in a ziploc bag, grab a rolling pin, and go to town. Peach Crumb Bars. My recent obsession with peaches started not long after crossing the Georgia state line en route to Florida on our vacation. My Chief Culinary Consultant mentioned how we should stop to get a slice of peach pie since we were, in fact, in Georgia (the Peach State). I think my face lit up like a Christmas tree and then that was it – I had peach pie on the brain. We never stopped for pie since we were in the middle of a 16-hour road trip, but my craving was fulfilled a couple of days later when we couldn't stop talking about peach pie and finally went and bought peaches and made a pie.
It absolutely hit the spot and was probably the best peach pie I've ever eaten. Peanut Butter Cup Bars Recipe. Exactly 9 days post-New Year's my aforementioned aversion to sweets disappeared like a puff of smoke. The holiday sugar cloud has lifted and I am ready to dive into butter, chocolate, sugar and, of course… peanut butter! These peanut butter cup bars are nothing new to the blogosphere, but I am thrilled to finally have them back in my kitchen. I had my first encounter with these bars waaaaaay back in college. I was at a cookout/bonfire and a girl brought a pan of these.
I've been a peanut butter fanatic pretty much since I uttered my first words, so needless to say I fell in love with these immediately. Cream Cheese Cinnamon Rolls. Cake Batter Blondies | The Angieriver Show. French Raspberry Tarts | The Angieriver Show. Inside Out Chocolate Covered Strawberries. Chocolate Mousse. Cinnamon and Sugar Toasted Mini Pita Fruit Nachos… Food Court Cinnamon Buns. Chocolate Covered Peanut Butter Ritz Sandwich recipe. Chocolate Dipped Clementines.
---