Mixed Drinks
tgi friday's long island iced tea recipe | restaurant recipes
15 New Drinks to Thrill Your Taste Buds
A couple weeks ago I posted a Strawberry Basil Mojito and it started me on a beverage kick. I wish I hadn't waited until the end of summer to start thinking about creative, fruity and refreshing drinks, but being the procrastinator that I am, I did! Sweet drinks are tasty, and they're a simple way to liven up a party. A random Friday night with friends and a deck of cards is fun for sure… but add in a sweet vodka drink and SNAP! The night instantly got better. I especially love this drink because it combines 2 of my favorite flavors: lemon and strawberry with my favorite alcohol: vodka.
Strawberry Lemonade Vodka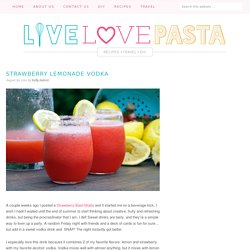 The French Martini is a great beginner's Martini. Like the Appletini, it's fruity and a little bit on the sweet side. That can often be your downfall though, as the bite of the vodka gets hidden away and you don't realise how potent they are until you've had a few and then get dizzy when you stand up.
things for boys: Cocktail Hour - French Martini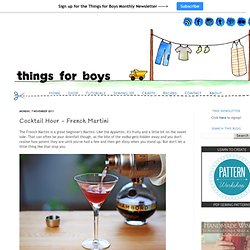 A party is not complete without booze. I still remember the drink I prepared for my first house warming party was a Bellini, prepared with peach puree and champagne. I was not totally into cooking then but still managed to wow my guests with curry chicken and beef rendang prepared with Prima pre-mixed paste.... it wasn't difficult because most of my friends and colleagues do not cook so any sort of reasonably decent culinary effort was sufficient to impress. As the years went by and as I started to dig deeper into recipes, premixes started to feel like a cheating easy way out... the party dinner preparations became more frentic and tedious as I insisted on making everything from scratch.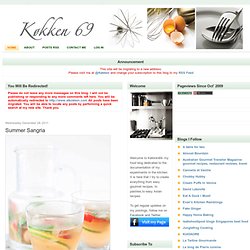 Summer Sangria
Raspberry Splash on the Rocks
It's not very often that a cocktail is mixed up in our house. After all, it's my cousin, Mark, who is the cocktail expert in my extended family. By the way, he has a fabulous cocktail blog which you should definitely check out. Anyway, every now and then, my husband feels like making something a little extra special. Enter "Raspberry Splash on the Rocks".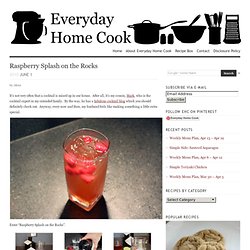 Last week, David Leibovitz's blog had a delicious-looking guest post on strawberry vodka. Soon after that, TasteSpotting and FoodGawker exploded with entries showcasing different fruit-infused vodkas. Since everyone else was doing it… Yeah, I hopped on the infused vodka train. Ripe strawberries smell so good! And after three days in a tightly sealed jar with said berries, the vodka smelled pretty good too.
Twisted Strawberry Lemonade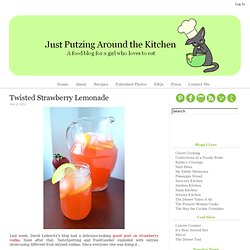 Pomegranate-Champagne Rum Punch
"Today I don't feel like doing anything, I just wanna lay in bed. Don't feel like picking up my phone, so leave a message at the tone,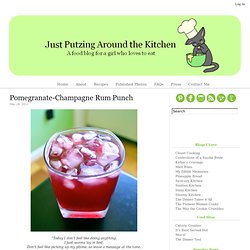 Recipes from The Nest
A Very Merry Cocktail Recipe: The Spiced Pear Margarita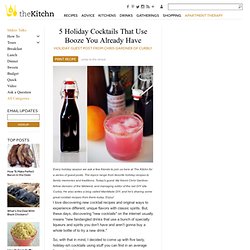 I love discovering new cocktail recipes and original ways to experience different, unique flavors with classic spirits. But, these days, discovering "new cocktails" on the internet usually means "new fandangled drinks that use a bunch of specialty liqueurs and spirits you don't have and aren't gonna buy a whole bottle of to try a new drink." So, with that in mind, I decided to come up with five tasty, holiday-ish cocktails using stuff you can find in an average liquor cabinet. These'll work for Christmas, New Year's Eve, and, frankly speaking, Tuesday afternoons if you're feeling festive. These are all tested and approved recipes from the ManMade kitchens and friends...that was a fun day at the office. Arsenic Sauce For consumption with a three-decker toadstool sandwich.
5 Holiday Cocktails That Use Booze You Already Have Holiday Guest Post from Chris Gardner of Curbly
I'm pretty sure you worked super hard this week. You deserve me. I'm cold and icy and refreshing and filled with tequila. It's probably like… 160 degrees where you live right? See… now you really need me. I'm nothing like those sugary sweet fake-tasting strawberry margaritas.
Fresh Strawberry Margarita Recipe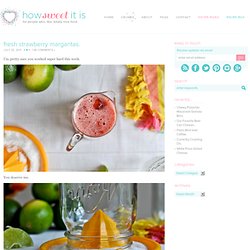 Grown Up Hot Chocolate with Homemade Bailey's Marshmallows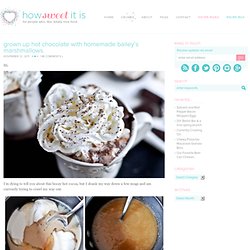 Hi. I'm dying to tell you about this boozy hot cocoa, but I drank my way down a few mugs and am currently trying to crawl my way out. Like everything else this week, it wasn't my idea… a bunch of you [like Allison] looked at me [virtually] as if I was insane for not putting the marshmallow vodka in hot chocolate. I'm so glad I have smart invisible internet friends! No more words. Except… GET IT.
The 10 manliest cocktails (and how to make them)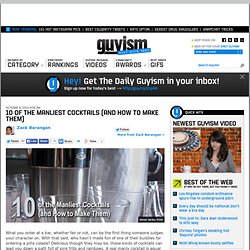 What you order at a bar, whether fair or not, can be the first thing someone judges your character on. With that said, who hasn't made fun of one of their buddies for ordering a piña colada? Delicious though they may be, those kinds of cocktails can lead you down a path full of pink frills and rainbows. A real manly cocktail is equal parts strong, a challenge to drink, classy, and rugged.