Kids Crafts & Toys
Bear: Tutorial and Pattern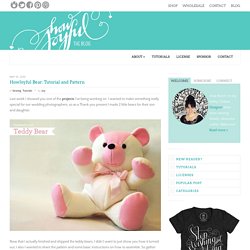 Last week I showed you one of the projects I've being working on. I wanted to make something really special for our wedding photographers, so as a Thank you present I made 2 little bears for their son and daughter. IMPORTANT: This project is not for beginners, and if you have never made stuffed animals and are not familiar with patterns, I would recommend you to start with a more simple project and attempt this teddy bear once you have the skills and patience to put together pattern pieces and are familiar with your sewing machine (if you are not fully hand-stitching it).
Thank you for such kindness and sympathy towards my last post. My grandmother will be greatly missed.
Make your own Magnetic Paper Dolls (and a fabric cover for your metal base)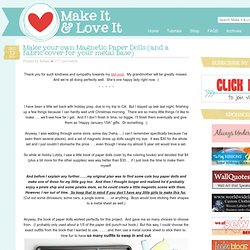 Felt Cherry Pie - Martha Stewart Crafts
Felted Stuffed Animals - Martha Stewart Sewing Projects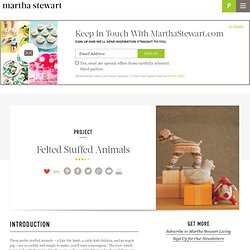 These petite stuffed animals -- a Fair Isle lamb, a cable-knit chicken, and an argyle pig -- are so cuddly and simple to make, you'll want a menagerie. The toys, which range in height from 5 to 8 inches, are each assembled from a few basic felt pieces and plumped up with batting.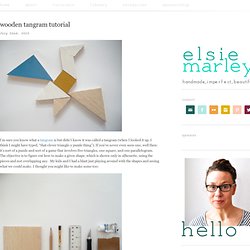 July 22nd, 2010 I'm sure you know what a tangram is but didn't know it was called a tangram (when I looked it up, I think I might have typed, "that clever triangle-y puzzle thing"). If you've never even seen one, well then: it's sort of a puzzle and sort of a game that involves five triangles, one square, and one parallelogram.
elsie marley » Blog Archive » wooden tangram tutorial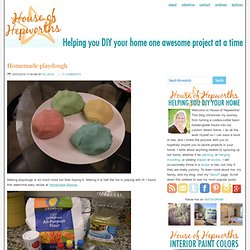 Making playdough is so much more fun than buying it.
Homemade playdough
This post is part of a series created for Positively Splendid. It aired last week, and I'm reprinting it on my blog for all of you. When I think of summer, I think of two things: HOT and "Ohmygoshhh, the kids are going to be home for how many months?".
Sponge Water Bombs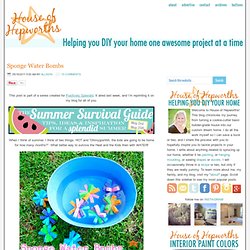 contoured burp cloth
Didi Dino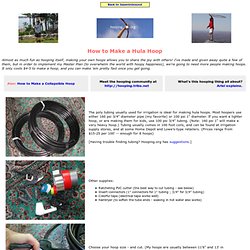 How to Make a Collapsible Hoop:
How to Make a Hula Hoop
Turn a Placemat Into A Little Boy's Toolbelt | The Creative Maven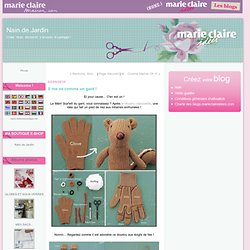 Et pour cause... C'en est un ! Le Mâm' Sca'lett du gant, vous connaissez ?