Extras
Homemade Salsa. Arby's horsey sauce recipe. Make Your Own Salad Dressing. Making your own salad dressings at home is one of those skills that's super easy and delicious.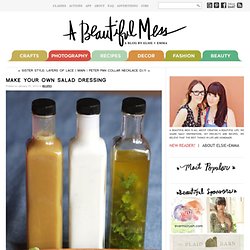 This time of year is an excellent time to start eating more greens in your diet, so here's three easy salad dressing recipes to help spruce up your veggies. We're going to make: homemade ranch dressing, cilantro lime vinaigrette, and our own homemade honey mustard dressing. Keep in mind that you can add any herbs or spices you prefer. Ranch Dressing makes around 4 cups (twice as much as pictured) How To Make Butter In Under 5 Minutes! Home » Recipes » How To Make Butter In Under 5 Minutes!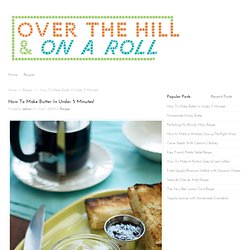 That's right! You can make butter in under 5 minutes. When I first researched making butter, I truly thought the butter would be A) hard to make and B) taste terrible. The Easiest Way to Make Homemade Mayonnaise | Umami Girl. Mayo has its detractors, and I count some close friends among them (if a tad begrudgingly).
Where store-bought mayo is concerned, the naysayers have a point. Most supermarket brands, while acceptably tasty, are made with soybean oil. Soybean oil is a great choice if your lifelong dream is to directly modify your own genes but you don't have the money for a fancy procedure. (Oh, stop, I know.) Gluten Free Homemade Nutella Recipe. Just the week before last, my favorite food writer from the LA Times came up with a brilliant recipe for homemade Nutella.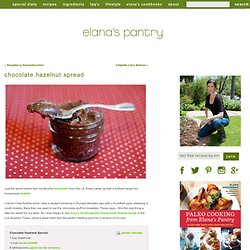 I haven't had Nutella since I was a student traveling in Europe decades ago with a EuroRail pass, sleeping in youth hostels. Back then we used to eat the chocolate stuff for breakfast. These days, I find the real thing a little too sweet for my taste. Homemade "Mrs.Butterworth's" Syrup. I used the recipe for Homemade "Maple" Syrup to give me inspiration for a syrup that we like a little more then the pure stuff.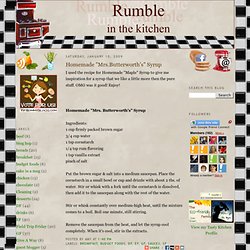 OMG was it good! Enjoy! July is National Ice Cream Month—oh yeah! Vanilla Extract. January 2, 2010 | Print | E-mail | Filed under vanilla I'm sure you've probably seen this everywhere by now, but since it was part of mine and hubby's homemade Christmas gift baskets this year, I couldn't post about it until now or I would have spoiled the surprise!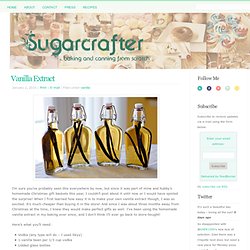 When I first learned how easy it is to make your own vanilla extract though, I was so excited. The best pie crust you've ever made. I don't want you to get all freaked out about making your own pie crust.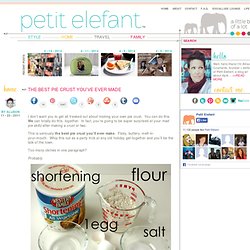 You can do this. We can totally do this, together. In fact, you're going to be super surprised at your mad pie skillz after making a crust or two. This is seriously the best pie crust you'll ever make. Homemade Marshmallows. 1.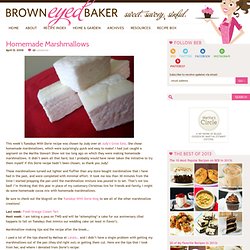 Line a rimmed baking sheet -- choose one with a rim that is 1 inch high -- with parchment paper and dust the paper generously with potato starch or cornstarch. Have a candy thermometer at hand. 2. How To Make Butter In Under 5 Minutes. Homemade Hot Sauce. I am a serious hot sauce fanatic.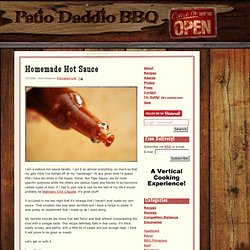 I put it on almost everything, so much so that my girls think I've burned off all my "tastebugs". At any given time I'd guess that I have ten kinds in the house. Some, like Tiger Sauce, are for more specific purposes while the others are various types and flavors to accessorize certain types of food. If I had to pick one to use for the rest of my life it would probably be Melinda's XXX Chipotle. Make Your Own Vanilla Extract: Day 1. I have yet another DIY food project for you today: homemade vanilla extract!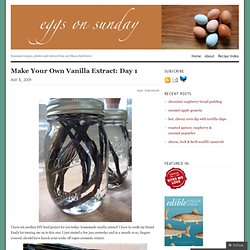 I have to credit my friend Emily for turning me on to this one; I just started a few jars yesterday and in a month or so, fingers crossed, should have knock-your-socks off super-aromatic extract. Around us, the best price I can get vanilla beans for is about $1/bean, which up until recently I thought was a fairly good deal. Chef Tom Cooks !» Copycat Bisquick Mix. This is a handy mix that is easy to make and always great to have around. Most kitchens usually have these ingredients and their are so many good uses for Bisquick mix. 6 cups all-purpose flour 3 tablespoons baking powder 1 tablespoon salt 1 cup vegetable shortening Sift flour, baking powder and salt three times into a large bowl. Cut in the shortening with a pastry blender until mixture resembles fine crumbs. Nutella Buttercream. Do you ever have one of those days when everything goes wrong? That was my day on Saturday.
Cliff, Kelly and I had a long day of blogging planned. Right before we began, the sky turned pitch black and it poured rain. Peppermint Marshmallows. Earlier this week I mentioned that I am not a fan of Martha Stewart. And here I am with another Martha Stewart recipe! I saw these marshmallows on pinterest and decided that I NEEDED to make them this Christmas. Cream Cheese Frosting. I'm not going to try to avoid the question on this one, I'll just start with the honest truth: I've made ONE traditional cake from scratch. Once. That's it. Homemade Taco Seasoning. Grandma Carol's Spaghetti Sauce. Chele's Guacamole. Pantry Recipes: Homemade Maple Syrup. Texas Barbecue Sauce. 32 New Things: Make Cheese. Sweetened Whipped Cream. Guacamole. Honey Butter. Pizza Sauce. Strawberry Freezer Jam. Kansas City Barbecue Sauce. Tzatziki. Roasted Red Pepper Hummus. Arugula and Asiago Pesto.
Homemade Barbeque Sauce.
---