ARCH.
Making buildings in foamboard. Miniature building construction in foamboard by Emmanuel Nouaillier Emmanuel Nouaillier shows how to scratch build and age miniature structures.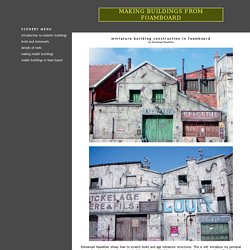 This is will introduce my personal approach and techniques for scratch building and ageing buildings, pertaining to the typical northern French urban landscape of the 1940s and early 50s. I believe that a proper rendition of textures and adequate weathering of the different elements is important when making a miniature scene, where the optimal development of each small detail of a diorama becomes more a necessity to modellers who want to show, with utmost realism, models that are better detailed and weathered I will explain stage by stage in future articles how to create peculiar materials and elements and how to give the models 'life' while employing generic methods.
Gorgeous_fire_design.jpg (720×654) Romantic Tree House In France - The Pretty Pad. 19 Amazing Staircases. The Bob Project: Part 3. After months and months of planning and building, Bob's new home is finally complete.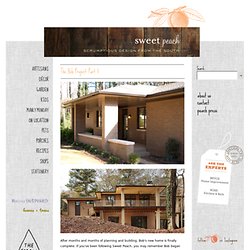 If you've been following Sweet Peach, you may remember Bob began the build of a classic modern home late last summer. Influenced by famed architect, Frank Lloyd Wright and a desire to tread lighter on the environment, Bob has brought his vision of the perfect home to life. For a recap on the build and design, click to see the Bob Project Part 1 and Part 2... I love the open floor plan and eye catching, spacious kitchen.
Interior Design Ideas: Bathroom Designs, Kitchen Designs; Design Ideas for Your Home and More! One can dream. Once upon a time there were some very well-off folks in Vancouver who wanted big new homes.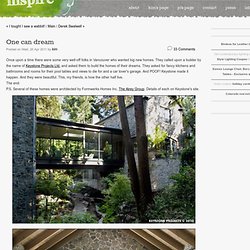 They called upon a builder by the name of Keystone Projects Ltd. and asked them to build the homes of their dreams. They asked for fancy kitchens and bathrooms and rooms for their pool tables and views to die for and a car lover's garage. And POOF! Keystone made it happen. 10 things to consider when planning a comfortable, functional interior design. Award-Winning Fraser Residence On a Sloping Site | Architecture competitions.
Jan 23 This stunning building called Fraser Residence and it was designed by Christopher Simmonds Architects.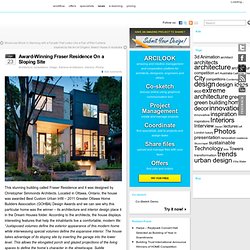 Located in Ottawa, Ontario, the house was awarded Best Custom Urban Infill – 2011 Greater Ottawa Home Builders Association (GOHBA) Design Awards and we can see why this particular home was the winner – its architecture and interior design place it in the Dream Houses folder. According to the architects, the house displays interesting features that help the inhabitants live a comfortable, modern life: "Juxtaposed volumes define the exterior appearance of this modern home while interweaving special volumes define the expansive interior. Glass door with a surprise.
Modern Concrete House (15 photos) When you first think about the words concrete house, you might imagine a cold, sterile environment, perhaps something similar to a prison.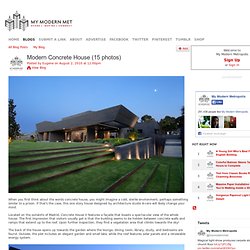 If that's the case, this one story house designed by architecture studio A-cero will likely change your mind. Located on the outskirts of Madrid, Concrete House II features a façade that boasts a spectacular view of the whole house. HomeSTYLE: Reading Nooks | whippedSTYLE. By Rachel Smith on December 15, 2011 In the lovely yet cold winter months – we love to establish a delightfully warm and cozy reading nook.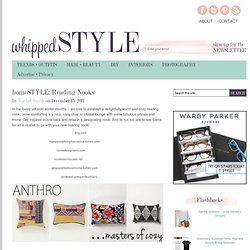 How comforting is a nice, easy chair or chaise lounge with some fabulous pillows and throw. Garden & House. Weekly Roundup: Libraries |
---