Laschwartz
Lisa schwartz
I'm 20 in love my friends and family i have a degree in Arch. Drafting. but love any form or art.
Workout. Health Tips - Home Remedies That Work at WomansDay. Nobody is naysaying the wonders of modern medicine—what would we do without a medication like penicillin to treat infections?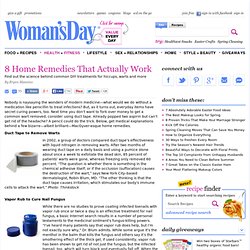 But, as it turns out, everyday items have secret curing powers, too. Next time you don't want to fork over money to get a common wart removed, consider using duct tape.
History. Printables. Shopping. T.V. & Movies. Invatations and gifts. Wedding. Fashion & Beauty. Mixed Drinks. Cooking. DIY.
---