Dog Training
Training Guard Dogs. Free online speed reading software | Spreeder.com. Spreeder is a free service provided by 7-Speed-ReadingTM.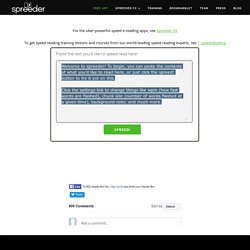 If you like this site, please have a look at our powerful 7 Speed Reading Software. Spreeder.com is a free online speed reading software designed to improve your reading speed and comprehension. Spreeding 1 word @ 300 wpm Paste the text you'd like to speed read here: Behavioral Rehab. Dog Supply Websites. Adams Dog Training and Dog Behavior. "Newest Articles. Table of contents Newest Articles Have you seen. . .?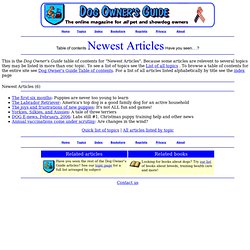 This is the Dog Owner's Guide table of contents for "Newest Articles". Because some articles are relevent to several topics they may be listed in more than onc topic. To see a list of topics see the List of all topics . Dog Training. Book. Dog Training. Dogs. Ian Dunbar on dog-friendly dog training.
---