Project Management
businesballs tree swing pictures - tire swing, tire swing, rope swing cartoons pictures
home » amusement/stress relief » businessballs tree swing pictures new tree swing cartoons - extending the tree swing or tire swing funny diagrams - for training, presentations, etc See the first Businessballs tree swing page for the original tree swing pictures, history and explanation. These new pictures have been drawn especially for Businessballs. The collection starts with re-drawn cartoons of the original tree swing cartoons, and then extends to new variations on the theme.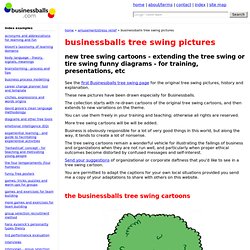 Project Management Templates | for the Professional Project Manager
Apollo is project and contact management done right. Using Apollo, you will realise that it's built to help you get things done, quickly and efficiently. With Apollo, you will always know where your projects, your contacts and your life are at and you will feel on top of everything — regardless of how hectic your schedule is. Use it anywhere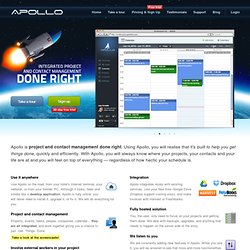 We turn email hell into work-together heaven Ok, heaven's a bit of a stretch. Work will still be work, and people will still be people. But we're not exaggerating when we say we will change how your people work ... for the better.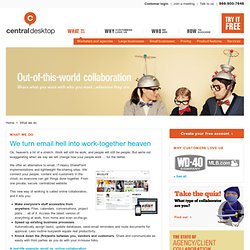 Social Collaboration Solution Editions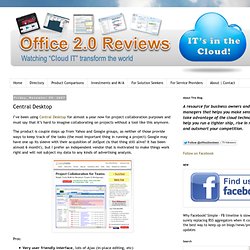 I've been using Central Desktop for almost a year now for project collaboration purposes and must say that it's hard to imagine collaborating on projects without a tool like this anymore. The product is couple steps up from Yahoo and Google groups, as neither of those provide ways to keep track of the tasks (the most important thing in running a project) Google may have one up its sleeve with their acquisition of JotSpot (is that thing still alive? it has been almost 6 month!), but I prefer an independent vendor that is motivated to make things work right and will not subject my data to any kinds of advertising analysis. Pros:
Office 2.0 Reviews: Central Desktop